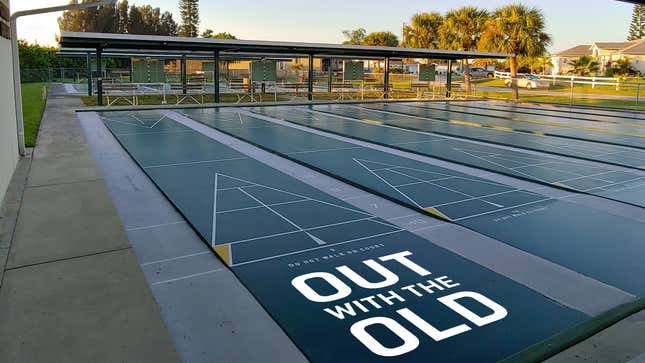 It's 9:05 a.m. While my friends and pretty much everyone my own age are getting settled behind desks and spreadsheets and scheduling the day's meetings, I'm surrounded by senior citizens, about to make the first shot of my pro season. It's already 90 degrees and my bald head is pouring sweat into my eyes. Taking a deep breath, trying to ignore the clanging of discs all around me, I shoot—an eight. Game one, match one of the Florida pro shuffleboard season has begun.

Chris Paul should ride the bench next season | Keep it a Buck(et)
I've been preparing for this for years.
Yes, I said pro shuffleboard.
At 32 years old, I'm the youngest pro in the state of Florida by a couple of decades. How does someone my age get deeply involved with a sport mainly associated with the elderly? Two words: St. Pete. It's home to the world's oldest (established 1924) and largest (both in number of courts and membership) shuffleboard club in the world. I happen to be born and raised here.
What makes the St. Petersburg Shuffleboard Club unique is that every Friday night, they allow the public to play for free, and the result is a wonderful mixture of mainly 20- to 50-year-olds enjoying a sport they'd otherwise ignore. If you have good hand-eye coordination and a love of strategy games, of which I have both, then you'll be drawn in immediately. After playing a few Friday nights I was hooked. That was five years ago, and in that time shuffleboard has become an integral part of my life. I met my fiancée at the St. Pete club and I've served as its vice president, played in four international tournaments for Team USA, and have made lifelong friendships. You could say I owe an awful lot to shuffleboard.
My passion for the sport stems from not wanting to see it die. Participation is down across to board due to the player pool not being replenished. It's morbid to say, but as the current players die out, so will the sport, unless it can start to attract young blood. I believe people just need to give it a shot, because no physical blessings are required. I'm 6-foot-1 and 180 pounds and without the proper natural abilities to be the best at other sports. I can't skate, I'm not especially fast, I can barely touch the rim of a hoop, I have less than warning track power. The playing field is level in shuffleboard, and everyone faces the same challenge. In how many sports do you—yes, you—have a legitimate chance at being the best?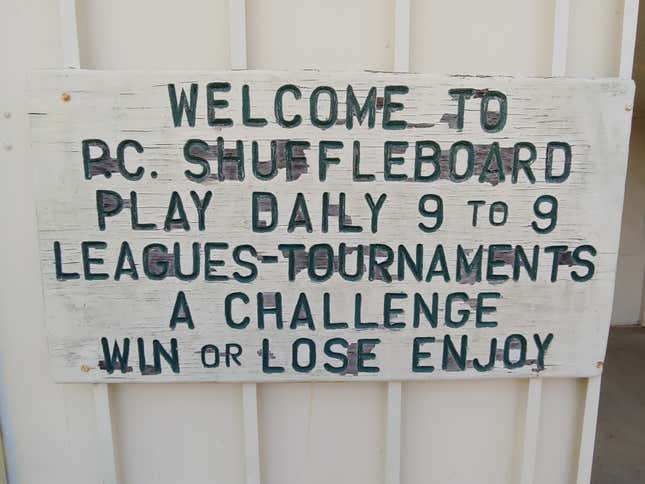 Shuffleboard has been played in Florida for over 100 years, with the first courts located in Daytona Beach. The official rules were formed at the St. Pete club in the mid-1920s. The format is simple: There are four yellow discs and four black discs per court that you shoot with a cue. Each team is assigned to a color. You can play singles or doubles, and in doubles you play on the opposite side of the court as your partner. At the tournament level, matches are best two out of three, playing until one team reaches 75 points. The goal is to score more points than your opponent each frame, with the values being 10 at the top of the triangle, 8 in the two bigger boxes below that, 7 in the two even bigger boxes below that, and a -10 in the box that runs along the bottom. Got all that?

The season consists of 26 tournaments over 26 weeks at numerous venues across the state, stretching from October to April. That is where you'll find the best of the best, and each Monday morning that is where I'll be, too. (The timing of the tournaments tells you something about the majority of the playing pool. They're overwhelmingly retirees, and they like their weekends free too, so why not have play start on Monday mornings?) The people who travel around the state and play these events don't do it for the monetary incentive. They do it for pride and the love of the sport. When I say pro shuffleboard season, the "pro" refers to the level of skill one has earned; you can't make a living at this. The most I've ever heard of someone making at an event in the past 20 years is roughly $250.
So how does a 32-year-old have time to do this? After a short attempt at college, I worked for a large financial company for six years before quitting to pursue my degree once more. Now that I'm finally done with school I'm taking time before finding another full-time job to chase shuffleboard glory.
The ultimate goal of my quest is to qualify for the state Masters, this year held in the Betmar Acres retirement community in Zephyrhills. Laugh if you will, but Betmar has 24 indoor courts and a full golf course. I'd move there tomorrow if I weren't 23 years too young. At the end of a season the top eight point-getters in the men and women's divisions make the Masters and get a sweet-ass white jacket (it's a nice windbreaker, shut up) with their name stitched over the breast. I want that jacket. I want it more than anything. The Masters has been around since 1960 and I would be the youngest male qualifier ever. Think of this as Paper Lion, if George Plimpton didn't suck at football but was also seven years old.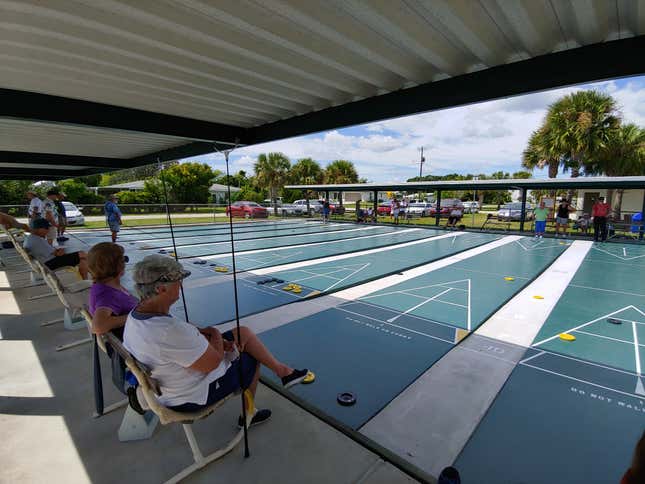 The toughest part about making the Masters, or doing well in just about any tournament, is finding a good partner. Only a few of the 26 tournaments are singles. The rest are doubles or mixed doubles. The top players in the state tend to always play with each other, creating a barrier to entry for everyone else. Luckily, the Florida Shuffleboard Association president, Dave Kudro, 67, who has made the Masters numerous times, heard about my white-jacket lust and agreed to play with me in as many events as I wanted.
On my first day of action, the score was 30 to -13 in the first game of our second-round match, our opponents nearly halfway to the winning score of 75. As usual we were squaring off against two retired senior citizens. I always try and chat up the person I'm playing, looking for anything we may have in common I can latch onto. Due to the wide age gap there's usually little in the way of pop culture to connect us, unless they happen to follow baseball or football. I go tend to go the safe route, asking how long they've been playing and what brought them to Florida in the first place. That part always fascinates me. Almost none of these people are originally from Florida, and being a native who is proud of this gloriously weird state, I love hearing their stories about where they lived and what they did before moving to this heat swamp. Why did they pick that specific city? What made them pick up a cue for the first time? Weather talk always works, too, and is better than many alternatives. The Florida retiree shuffleboard player tends to be conservative and white, so there are limited things a young liberal can talk to them about and have a civil discourse. More than few times that Monday I overheard someone referring to the Kavanaugh hearings say "So he enjoys beer. Who doesn't?"
The stinging sweat in my eyes hurt almost as much as the scoreboard. A 43-point deficit is painful, for sure, but not insurmountable, since unlike other sports, pro shuffleboard matches have no timer or innings limit. I knew Dave and I were better players than our opponents; it was just going to take more time than I originally thought to win this match. Luckily Dave had an amazing round from the head of the court (the end with the scoreboard) scoring 23 points while his opponent accidentally shot himself into the negative 10 (also known as the kitchen), reducing their lead to a measly 10. As the look of disbelief and anger washed over my opponent's face I had to try to conceal a mini-fist pump at my side. This is a sport where it's frowned upon to celebrate too hard at an opponent's misfortune. You have to sit on the same bench as your opponent for hours, so it's awkward for everyone if anyone acts like an asshole.
At the foot I was fortunate enough to have a 7 on board that my opponent missed, allowing me to take aim at his disc sitting deep in the 7 on the opposite side and gently nudging him into the negative 10 while scoring another 7 for myself, scoring 14 and dropping them another 10 points, erasing their lead and giving us a 24 to 10 advantage in the span of one frame.
We wouldn't trail again, defeating them in two straight games on our way to the semifinals and ultimately the finals. There we fought hard but lost in three games to two players who have been enshrined in the state Hall of Fame for years. No one said my quest for the white jacket was going to be easy.
The second-place finish earned each of us four points (first place is worth five points, third gets two points, fourth one). It usually takes around a minimum of 40 points to make the top eight, so we're in really good shape to start the season. I'm already trying to figure out what pants go with a white jacket.
---
Erik Hahmann is a freelance writer whose work has appeared in the Tampa Bay Times, Rotographs, and Uproxx.