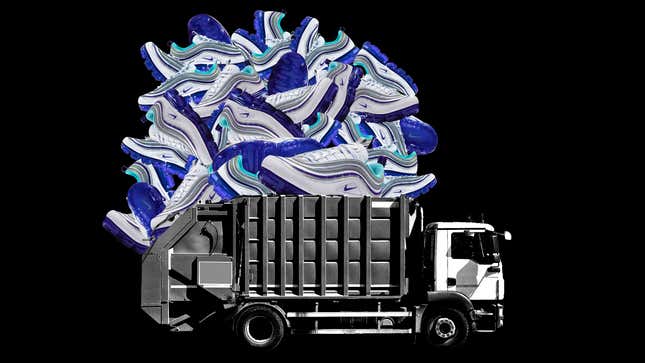 First off, let's get something out of the way: I did not purchase $1.3 million dollars' worth of Nike Air VaporMaxes (White/Varsity Purple/Metallic Silver/Aqua, size 9.5) with the intent of shipping them to the Glendale city dump.

Now, did 20,000 or so people believe that I purchased $1.3 million dollars' worth of Nike Air VaporMaxes (White/Varsity Purple/Metallic Silver/Aqua, size 9.5) with the intent of shipping them to the Glendale city dump? Yes, and I'm here to explain why.
I am not a wealthy man. My last actual shoe purchase nearly bankrupted me. Hell, I'm still paying off my most recent visit to Whole Foods … or as I like to call it, Whole Paycheck. Go ahead and use that one if you want.
And while I may not have access to millions of dollars, by simply tweeting a single, incredibly obvious joke, I do have access to millions of atrocious replies from people named things like @Resistance_Deborah57, @Resistance_Deborah62, and @Resistance_Karen.
Last Tuesday, I pretended to be a rich guy. More specifically, I pretended to be a rich guy protesting Nike's decision to make Colin Kaepernick the face of their latest ad campaign by buying thousands of shoes and mailing them to a landfill. On its face, an obvious parody of the numerous MAGA dipshits burning their Monarch IVs in backyard fire-pits. Everyone knows the type: the guy in a Vineyard Vines polo recording a car vlog about how kneeling athletes have ruined the sanctity of one third of Lady Antebellum singing the national anthem at a Jacksonville Jaguars preseason game. The red-faced owner of a mall kiosk who refuses to sell phone cases with the swoosh on 'em (American flag ones are fine, though). The state senator who looks like he invented tweed and will take any opportunity to score cheap political points on the off-chance he might get a fave thrown his way by the President's wet sons.
If you aren't familiar with how Twitter works, each morning, somebody posts something stupid. The rest of Twitter takes turns pummeling this person into submission. Then, we forget what we were mad about and do it all over again the next day.
Unfortunately in this case, the thing people were mad about was a joke. It wasn't real. It never happened. The vast majority of these angry replies could have been avoided if people had simply taken five seconds to examine the context of the post, or even just demonstrated a modicum of common sense. All it would have taken was one click over to my profile, for example.
"Hold on a second," they'd say to themselves, "This guy plays video games online for a living, where he makes money by debasing himself by dying in PUBG as internet weirdos throw pennies at him like some freakish little pig monster… also, the email listed in the screen-grab is courage@army.com."
But this is Twitter, and Twitter doesn't do context clues.
No, Twitter does "I'm so sure of myself that I'm going to double down on my opinions even when proven wrong."
The journey from "this guy bought a million dollars worth of shoes, he's an idiot," to "this guy tricked me into thinking he bought a million dollars worth of shoes, he's still an idiot," is, quite frankly, absolutely incredible.
Look, I get it. I really do. The dopamine rush you experience when you quote tweet some idiot conservative laying down in a dumpster and add "lol" or "lmao" is the closest you'll ever get to understanding how your grandpa felt when he stormed the beaches of Normandy and bolt-action ratio'd a bunch of Nazis.
But for the love of all that is holy, please, please take five seconds to determine if something is a joke before getting all self-righteous. I know how easy it is to cobble together some lazy-ass reply about "owning the libs," but at least make sure the guy you quote-tweeted actually mailed a dozen Tofurkeys to Nancy Pelosi.
It wasn't all bad, though. Some of the best replies I received were from the people who came so close to getting the joke. You've done all the work, man. You're almost there. Just one more step. You've just about got it.
The second best? The people who asked where the dump was located. So they examined the screen-grab close enough to know I was sending the shoes to a dump… but somehow didn't see the name and address of the dump right there?
My personal favorites, though, were the people who got into it with me directly and still didn't realize what was happening.

What it all comes down to is this: when you're online, it doesn't matter what your politics are. At some point in your mad scramble to own somebody, you'll be fooled by a parody account, a photoshop, or some little Canadian dickhead pretending to buy 6,500 pairs of Nikes. This is the world we live in now; just a non-stop stampede of people from either side of the aisle trying to pull one over on the dumbest idiot of the other team. By all means, go ahead and do that! Just make sure they're real. Stay vigilant, use your head, and don't share that picture of the shark on the freeway the next time there's a big flood.
Also, people should have to take a standardized test before being allowed to use the internet. Feel free to quote-tweet that.
---
Stefan Heck is a comedy writer from Vancouver, Canada. You can listen to him complain about the Canucks on Real Good Show and watch him struggle to play video games on The Go Off Kings. He has been blocked on Twitter by Rob Schneider, Dog the Bounty Hunter, and Taco Bell.