Here's what I know about Ed Sheeran: He's British, he's ginger, he sings, and he recently did his own version of O.T. Genasis's "Coco." I listened to that, and I turned to stone. It did not need to exist, but now it does, and it has done no favors in helping me figure out Ed Sheeran.
I can't name a single one of his songs, either. A quick perusal of Spotify was unhelpful. It sounds like third-tier John Mayer: It's just guitars and feelings. Young Ed has lots of those. Lots! Apparently, he beatboxes. Beatboxing should be illegal. Don't beatbox. Don't tout that as a skill. It's not okay. You know what else? Without verifying this, I am almost positive Ed Sheeran plays ukulele. He has to. If not, he's learning. He's the type who uploads a keyed-up solo-uke version of "You're Beautiful" to YouTube to woo a girl.
Speaking of which, he "allegedly" dated Taylor Swift. I bet the ukulele thing is how he got her. She loves a romantic gesture. Unfortunately, imagining that led me to imagine how long Taylor made Ed wait before they had sex, which led me to imagine them having sex, which they probably called "making love." They cried and held each other after. Then Ed wrote a song and played it on his banjo. He has one of those, too.
I asked the Deadspin staff if anyone could name an Ed Sheeran song: No one could, except for Drew Magary, who gets a pass, because his kid likes Ed Sheeran. Kids can like whatever they want, because they are kids. I showed my nieces a YouTube video of a dancing turkey named Bert once, and that became their favorite song. It's fine. They're young. They don't have to understand things. I asked another friend over Gchat if she knows any Sheeran tunes, and she said, "I only know that one meth dying song." That didn't make Ed Sheeran click for me.
Circling back to the songs I couldn't name, all of their titles are just random thoughts or commands. "I'm a Mess." "Sing." "Don't." "Thinking Out Loud." (He is, I think.) "Even Dad Does Sometimes." "I See Fire." "Let's Order Lunch." You can barely tell where the list of song titles ends and where I, myself, started thinking out loud. Quick, take me to the closest Guitar Center! I need a mandolin.
G/O Media may get a commission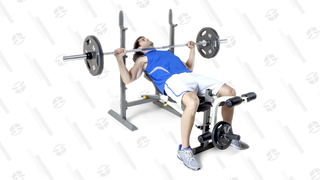 10% Off
Marcy Folding Weight Bench
Our sweet boy got LIT last night after the Brit Awards, by the way. Who doesn't from time to time? Although, I am positive if you were boozing with Edward, it would end in you holding his ginger hair back as he saw his Apple Pucker and fish tacos come back up and say hello for a second time that night.
In an effort to understand a manchild who wore sneakers with a suit to an awards show last night, I looked up his Wikipedia page. It is completely unhelpful. It's a bunch of gobbledygook about England. British blokes LOOOOOVE Ed Sheeran. I did get a few clues, though. One, he had a song on Taylor Swift's Red album. And two, he worked with Rick Rubin. Now you're speaking a language I understand, and it's not one where math is called "maths" and fries are "chips." The Rick Rubin connection probably explains why, from time to time, you see Ed hanging out with rappers.
A quick Google search of "Ed Sheeran rapper" showed me that, yes, Ed raps, but I had to move on from that for the safety and well-being of myself and those around me. (His best line is "They say I'm up-and-coming like I'm fucking on an elevator"—ed.) A perusal of the image portion of the same Google search shows Ed hanging out with The Game. It called Game Ed's "collaborator." What the? And here he is with Rick Ross! What? What. This is the face of someone who also doesn't get Ed Sheeran.
Homeboy was also in a video with Pharrell, but Pharrell will hang out with anybody. But what the FUCK is Ed Sheeran doing here with Beyoncé? It's a Stevie Wonder tribute, I get that part. It's just an odd pairing. Random British man and Beyoncé. Beyoncé!
I'm not saying anyone is wrong for liking Ed Sheeran. That's fine: You can do whatever you want. I don't even know most of you. I'm just wondering if someone could explain him to me. The more I learn, the less sense he makes. The questions just yield more questions.
Top image via AP; second image via Getty.