The NFL's Los Angeles tarantella has felt interminable, but it has finally reached a critical stage. With three teams seeking to move, and the league hell-bent on relocating one or two of them, everything comes down to the battle between St. Louis, San Diego, and Oakland to tender their respective teams the most money to stay. And Oakland, it seems, isn't even making an offer.
Jokic? Embiid? The NBA MVP is obvious... right? | Keep it a Buck(et)
The Rams', the Chargers', and the Raiders' owners all genuinely believe there is money to be made in L.A.—or at least more money than is available in their current towns. But one way to instantly boost the value of a franchise (something that every NFL owner will benefit from) is to get a new stadium, and all the revenue streams that come with it, like sponsorships, PSLs, luxury boxes, and concessions. Even better is if you can get taxpayers to pay for it.
A group of NFL owners met in Chicago this week to discuss relocation, which boiled down to them weighing the strengths of each city's proposals to help build new stadiums. The pecking order is clear.
1. In St. Louis, the state, city, and county have pledged to use public funds to cover $500 million of a $1 billion stadium for the Rams. And even more valuable, they'll be able to ram it through without giving residents a chance to vote on it.

G/O Media may get a commission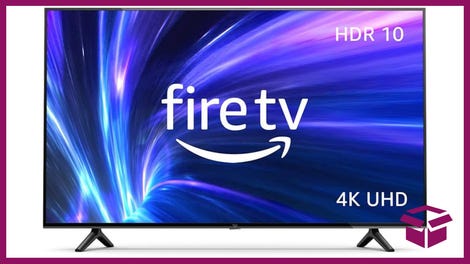 42% Off
Amazon Fire TV 50" 4K Smart TV
2. In San Diego, lawmakers have offered to commit $350 million to a $1.1 billion stadium, renderings of which they released yesterday. The NFL immediately made it clear that wasn't a good enough offer.

3. Oakland has nothing.

Literally, nothing. Meetings between local politicians and developers who want to build stadiums in Alameda or in the proposed Coliseum City megadevelopment have gone nowhere. There is no momentum among lawmakers to help the Raiders build a new stadium, and even less appetite among residents to pay for one.
There "has been no viable proposal" from Oakland to the Raiders, NFL VP Eric Grubman said after yesterday's meeting. Mark Davis will not stay in the Coliseum, and he and the NFL will not foot the bill themselves for a new home.
There is an increasingly viable proposal for the Raiders in Los Angeles. Owners seem taken with a $1.7 billion proposed stadium in Carson, which also won't require a public vote, that would house the Chargers and Raiders. And the Raiders seem content to play second fiddle, as long as it gets them out of Oakland.
Former 49ers executive Carmen Policy is overseeing the project, and yesterday he declared, unequivocally, that "The Chargers and Raiders are committed to Los Angeles."
(Worry not, San Diegans and Oaklanders: Policy figures you'll still drive to games, even in L.A.)
It's a simple matter of math at this point. The NFL is going to move at least one team—Giants owner Steve Tisch says "it's better than 50-50" that a decision will be made by the 2016 season—and Oakland is the only chopping-block city currently unwilling to offer its team's ultrawealthy owners hundreds of millions of dollars to stay. Mark Davis has no attachment to the Bay; sentiment doesn't factor into it.
Good for Oakland, honestly. It—like St. Louis, like San Diego, like every single American city—has much more important things to spend its limited funds on. But this remains sad news for Raiders fans, who seem likely to lose their team, possibly as soon as next year. It's not fair, but the NFL has all the leverage, because if Oakland won't make any concessions, there are other cities that will. The only way the stadium scam will ever be stopped cold is if politicians everywhere simultaneously decide sports leagues don't deserve handouts. It's hard to see that happening in the near future. It'll be even harder when politicians look at football-less Oakland, and know the NFL will be more than happy to call their bluff.