Bob Costas somehow managed to secure a phone interview with Jerry Sandusky on NBC's new newsmagazine show, Rock Center this evening, and he did as good a job one could have done under such bizarre circumstances. He also, it should be noted, managed to include the phrase "slap-slap-slapping" on national television.
The interview is as uncomfortable and surreal as we could have imagined, especially since Sandusky's lawyer, Joe Amendola not only agreed to the arrangement, but also sat down with Costas for the talk.
Sandusky, when asked if he was a pedophile, told Costas "no." When asked if he was sexually attracted to young boys, he paused for a moment and then responded:
Am I sexually attracted to underage boys? Sexually attracted? You know, I enjoy young people. I, I love to be around them. I, I... But no, I'm not sexually attracted to young boys.
It took him, as Zach Klein of WSB-TV noted, "16.3 seconds" to say "no."
Sandusky also admitted to "horsing around" with young boys in the shower. He still believes that he is "innocent of those charges"—"those" being the 40-count indictment against him—and asks that the public "hang on until my attorney proves my innocence."
G/O Media may get a commission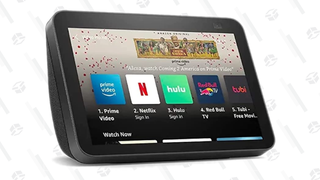 Note: Since this story was first published, we've condensed the interview to the shorter clip you see above. The full segment is viewable here.
Crossing Broad has the full transcript.
Video by Conor Hastings