We're doing a season-long NFL roundtable with our friends at Slate. Check back here each week as a rotating cast of football watchers discusses the weekend's key plays, coaching decisions, and traumatic brain injuries.
Jokic? Embiid? The NBA MVP is obvious... right? | Keep it a Buck(et)
« Previous entry | Next entry »
From: Tom Scocca
To: Tommy Craggs, Stefan Fatsis, Josh Levin
Who knows, maybe one kicking specialist's loss is another kicking specialist's gain. If the average starting field position turns out to be 10 or 12 yards worse because of all the touchbacks, we could see more drives ending in punts, meaning that many more chances for Devin Hester to break loose. Or the strong-legged guys formerly in charge of booming kickoffs could be called in to try more 50- and 60-yard field goals.
G/O Media may get a commission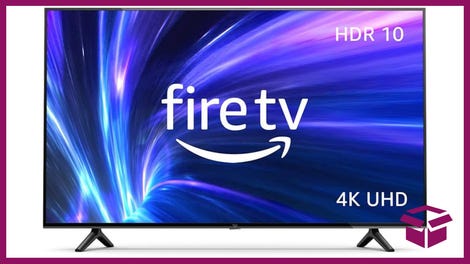 42% Off
Amazon Fire TV 50" 4K Smart TV
Or maybe with that extra five-yard cushion, coaches will go all-in for the onside kicks, knowing that they aren't automatically putting the other team in scoring range if they fail. Those jobs lost by the speedsters and gunners will go to the suddenly all-important Hands Team. And instead of fretting about full-tilt ballistic impact, we can fret about the clashing and torque in the onside scrum.
That's why we call them unintended consequences. Even less bureaucratic sports aren't immune. Consider the NBA 3-point line: The league moved it in, to make things more exciting, then moved it back out because it was too easy. But it couldn't undo the effects. What had been a risky shot, for long-range specialists only, had become a basic part of everyone's offense. Guards and forwards migrated out to the new-old distance, abandoning the long two-point jumper.
But enough about special teams and complicated systemic interactions. This is ESPN's Year of the Quarterback. Yes, there's a little every-day-is-children's-day there. (We're all eagerly awaiting 2012's Year of the Fullback, right?) Still, there are lots of exciting stories to tell ourselves about the league's heroic signal-callers. Too many, if anything. Peyton Manning's neck—especially given the reports that he had yet another surgery today—is the one real story of doubt and decline in the bunch.
Otherwise, it's all about reasons to believe. There's Michael Vick and the Philadelphia Eagles, who won 10 games last year even though opposing receivers could beat any and all of their cornerbacks at will. So they acquired the best cornerbacks on the market, and they gave Vick a not-really-$100-million showpiece contract to run their big-play offense, and now this year's reclamation-project quarterback understudy, Vince Young, is hailing Philly as a "Dream Team."
Yet Drew Brees and the New Orleans Saints are only two years removed from a dominating Super Bowl run. Young Matt Ryan and the Atlanta Falcons were 13-3 last year. Philip Rivers and the San Diego Chargers had the No. 1 offense in yardage last year, backed by the No. 1 defense, and were held back only by freakish sloppiness, bad luck, and incompetent special teams. Tom Brady and the New England Patriots picked up the aging Chad Ochocinco—another of those moves (like getting, yikes, grumpy and easily winded Albert Hey-Hey-Haynesworth) that would be obviously suicidal if the Raiders were to make them and brilliant when Bill Belichick makes them. And the New York Jets ... here the Year of the Quarterback gets a little mumbly. Mark Sanchez made the cover of GQ, to be sure, but he remains in an odd football netherland between Broadway Joe and Rudy. The official line seems to be that the Jets don't think they'll mess up their team-on-the-rise act if they let Sanchez throw the ball some more.
Did I skip anyone? Oh, yes: The quarterbacks who actually went to the Super Bowl. Ben Roethlisberger and the Pittsburgh Steelers have been to more title games lately than Brady's Patriots, if you're counting. And Aaron Rodgers, when he wasn't nursing a concussion, led a youthful and balanced Green Bay Packers team to a championship without benefit of a home playoff game.
But there's Peyton Manning, the greatest, longest-running one-man act of them all—no Matt Cassel interludes for the Colts—to remind us what happens to all this superlative talent eventually. One day, you're the Iron Man of football; the next day you're in civvies while Kerry Collins, rushed into action, tries to remember which way the end zone is.
So really, this week, the quarterback I've been most interested in is David Garrard, cut loose abruptly and at the last minute by Jacksonville, apparently because the Jags decided they didn't want to pay him. Did someone say "labor relations"? By every number—especially including age, but not overlooking touchdown-to-interception ratio or completion percentage—Garrard is a much, much better quarterback than Collins. I'm surprised the Colts haven't pounced on him. He might not know the Colts' playbook, but he does know Jacksonville's, and the Colts play the Jags twice in the division. Different quarterbacks have different assets.
-Tom