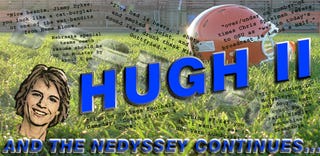 The game to watch right now is Virginia Tech and Boston College, tied at 16-16. Earlier, Central Florida pulled away from Tulsa and won 44-23, and UCF tailback Kevin Smith is close to breaking the single-season rushing record set by Barry Sanders. Navy's water invasion of Army proves successful for the sixth straight year as they won 38-3.
The SEC Championship just began between LSU and Tennessee, whilst some Pac 10 games — USC-UCLA, Oregon-Oregon State — are beginning soon. In the Championship Subdivision, Appalachian State held off Eastern Washington 38-35, Southern Illinois jumps on top of UMass 20-3, Delaware's huge second quarter puts them ahead of Northern Iowa 19-13, And The Nedyssey Continues...
Feels like the booth guys really resent mcguire around the stadium, brad nessler just told mcguire to "go ahead and eat your cookie"....why do i feel like he could have said "go ahead and eat your cookie, motherfucker" and no one would have blinked. — GoMountaineers
The guy who just got $75K from Dr. Pepper in the ACC Championship halftime show looks like he's living in 1982, owns a strip club and really wants Bonnie Bernstein to come for a tryout. — The Big Picture
Best sign of the day at the UCF game: Kevin Smith is......Chuck Norris. 36 carries, 272 yards, 4 TD's. — MrRedDevil
Saw it. Agree. But -1 style point to the signmaker for depicting Chuck Norris holding a gun. Everyone knows his arms are already assault rifles. Like Mega Man.
Andre Ware just said that it's better for UCF to get an interception in the end zone on 4th down and get the ball on the 20 rather than just knocking the pass down and taking over on the 30. Maybe ESPN should have checked his Wonderlic before drafting him. — The Bullsaw
Paul McGuire just described an interception in the Bc-Tech game as the defender "going up and just taking the ball out of the air." How else does someone catch a football exactly? — sortino18
It's like the Hokies have practiced blocking PATs and FGs. BC might've wanted to practice catching up to guys who block PATs and FGs. — Slothrop
ESPN's credibility on this Les Miles shit is about as good as mine when I'm trying to get a hot girl to break it off with her boyfriend. "Is it tough dating a gay dude? What? Really ... does he keep his eyes open? No I'm sure he's thinking of you." — prestonseider
This just in: Tulsa backwards is "A Slut". Giggle. — txtepper26
You're telling me that Kevin Smith didn't deserve a shot at the Doak Walker Award over Mike Hart? That's bullshit. — mystekl420
My UCLA alum friend called me a few minutes ago to invite me over to watch UCLA-USC despite my Trojan fandom. He said he would be celebrating no matter what the result — either the Bruins pull the upset for the second straight year or Karl Dorrell gets fired. Win-win all around. — Signal to Noise
They just showed Billy Gillespie on the sideline and you could see him thinking "maybe if I pee in a towel they'll send me back to the Big 12". — gargamel52
Hey, that's a college basketball thought. How'd that get in there? I guess it's just a sign that college football is almost over, and we'd better wrap up this season of Hugh Johnson Project. From the three of us at Deadspin Weekend Legal Guardian Headquarters, we hope you had fun following along and participating in Hugh II. We sure as hell had fun using Command-C and Command-V in half our Saturday posts.