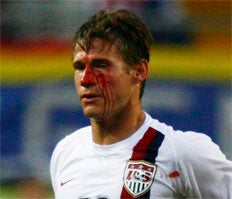 Okay, not really. But given the credibility of top Italian football officials at the moment, I think it's fair to let the mind wonder. The ref in the United States/Italy game was handing out red cards like they were commemorative souvenirs.
The Italian team got a red for elbowing Brian McBride in the face and busting him open like Ric Flair. Fair enough. The American team got two, count them two, red cards for... well, I don't know what the hell for. For attempting to play soccer, evidently. Jerry Stackhouse was sitting at home thinking, "Hey, I can relate."
But still, a spirited and gutsy effort from the United States team. They were far better today than they were against the Czechs earlier in the week. Donovan made things happen, Bobby Convey was good, and Clint Dempsey added something to the attack. I don't know where the hell Eddie Johnson was, though. Hopefully, someone makes Bruce Arena answer that one. Our legs were absolutely dead at the end of that game. Johnson's speed could've changed things.
The United States remains alive in Group E, though. They can advance with a win over Ghana, and an Italian win over the Czechs. And I think the Italians owe us one. It all goes down on Thursday.
Italy 1, United States 1 [FIFA World Cup]
Corrupt Italians Who Are Not On The Sopranos [the mighty mjd]