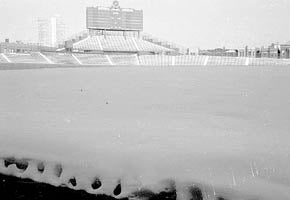 If you think it would be fun to see Chicago fans reach onto the field of play and try to interfere with a puck instead of a baseball for a change, then you're in luck. The NHL's second Outdoor Winter Classic game will pit the Chicago Blackhawks against the Detroit Red Wings at Wrigley Field, according to Comcast SportsNet. The announcement could come today.
However, a Friday announcement might be more likely, as Blackhawks Hall of Famers Bobby Hull, Stan Mikita and Tony Esposito will be on hand at Wrigley during the Cubs-Rockies game to sing "Take Me Out to the Ballgame" during the seventh inning stretch. Chicago's chances to host the game improved considerably when NHL Commissioner Gary Bettman said earlier this month that Yankee Stadium was no longer the favorite to host because of a "variety of issues."
The NHL's first Winter Classic was played earlier this year on New Year's Day at Buffalo's Ralph Wilson Stadium. The Pittsburgh Penguins beat the Sabres 2-1 in a shootout.
So I'm anxious to see how this guy gets caught in the Plexiglas.
Report: Chicago Blackhawks To Play Detroit Red Wings At Wrigley Field [Chicago Tribune]