This has been a maddening season to be a Philadelphia Eagles fan. Yet, here they are, playoff bound, thanks to an epic shellacking of one of the more despicable Dallas Cowboys teams in recent history.
And, yes, that video is of Eagles owner Jeff Lurie clocking his wife, Christina, right between the thousand-dollar specs after the Eagles scored their 45th touchdown of the afternoon. (After the 46th touchdown, he kneed her in the stomach.)
There are plenty of reasons why the Eagles shouldn't be in the playoffs, but thanks to the futility of the Buccaneers, Bears, and, yes, 'Dem Cowboys, the Birds travel to Minneapolis next week to face the Vikings in what will heretofore be called the Battle of Big Daddy Balls.
How great is it that Tony Romo once again ends another season with his hands covering his face in shame? Weeping Romo Pose should become a yoga position. And already, the Cowboys are looking for scapegoats for this latest disaster and surprisingly, they're not pointing fingers at Wade Phillips. And guess what? Neither is Jerry Jones, who stated in the post-game press conference that the Son of Bum is safe.
G/O Media may get a commission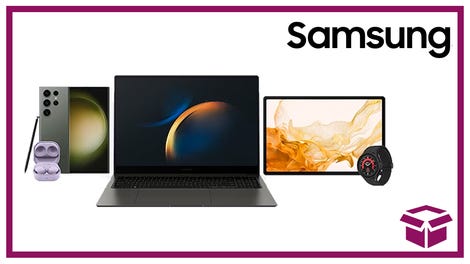 24 hour deals
Discover Samsung - Daily Deal
Anyway...who's knobbed-up for a two-day work week! We'll be short on posting the next few days, but do everything possible to keep you busy while you clean out your desk and make New Year's plans.
Thank you for your continued support of Deadspin and Andy Reid's scary playoff beard.
Go back to yammering...
Video: Philly Sports Cast and BlackSportsOnline
Eagles Finally Soar [The Idle Rich]
Terrence Newman: This Wasn't Wade Phillips Fault [Dallas Morning News]