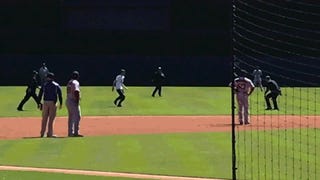 An idiot in Detroit today managed to evade security long enough to get almost all the way across the field, breaking from a casual skip into a full sprint, before looping back and ultimately getting tackled.
MVP here is perhaps Red Sox shortstop Marco Hernandez, who didn't flinch as the idiot came near and remained perfectly unimpressed with his hands on his hips.
Update, 3:30 p.m.: Another idiot.