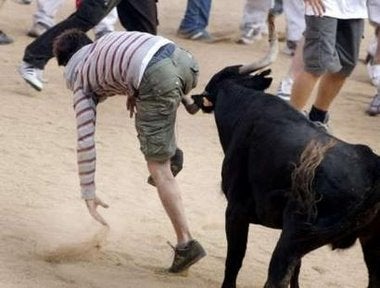 Not a good weekend for bulls internationally.
First, Chicago's NBA franchise ponies up $20 million in an attempt to sign noted-Duke-chebag J.J. Redick (this, after dropping $76 million on fellow alum Carlos Boozer). But even more frustrated must be fans of the Pamplona bulls who, during their annual running today, didn't gore a single bro who "takes it to the EXTREME!"
From the AP story, "Five revelers were injured but there were no gorings at a danger-filled and crowded weekend running of the bulls at Spain's San Fermin festival on Saturday. ... Morning dew on the cobblestone surface of the course and large crowds, many of whom had partied all night, had increased the likelihood of runners slipping or tripping up as the bulls raced down narrow passageways."
Sucks. I love the smell of aggro-blood on dewy cobblestone in the morning. Get 'em tomorrow (when everybody in Pamplona is watching Holland steal your nation's soul like only a red-district debutante is capable).