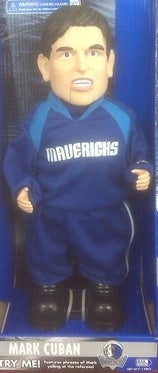 Looking for a toy that will compliment your child's ADHD while teaching him many new profanities in the process? It's the Ref-Baiting Mark Cuban Doll, with military stompin' boots and, apparently, kung-fu grip. Also, please note the "choking hazard" warning at the top, most likely added during the 2006 NBA Playoffs. And hey, it talks! Hear some of the phrases below.
Other phrases not shown in video:
• "Insider trading? You're killing me!"
• "A c-note should get you more than one lap dance!"
• "Help! I'm getting the shit kicked out of me by the talking Don Nelson doll!"
• "Sam Zell won't take my calls!"
• "I love Will Leitch!"
If You Can't Make Fun Of Yourself ... [Blog Maverick]