Last weekend, longtime WWE star Matt Hardy might have taken off his boots for the last time. He also might not have, but he at the very least appeared to announce his retirement in a YouTube video. Explaining that he had worked out a way to fulfill his previously advertised commitments to WWE, Hardy told the camera that "I never say say never…but tonight here in Corpus Christi was most likely the last time you'll ever see 'Woken' Matt Hardy in a WWE ring." This is wrestling, of course, and more particularly it's Matt Hardy, one of the sport's great absurdists, and so there may be more than meets the eye. The video comes after weeks of tweets from Hardy teasing a farewell and discussing his back problems, not to mention reports and Hardy's wife saying that he's planning a transition to a backstage role. While he may not be announcing it as such just yet and while there's ample reason to take the not-quite-stated news with a grain of salt, it at the very least affords us an opportunity to look back at Hardy's wild, weird, and impossibly tumultuous run in the business.

Hardy's back issues, stemming from years upon years of flying leg drops among other large falls, were always likely to be the culprit that would end his career. Hardy is more or less self-trained, and started running shows using a ring converted from a trampoline under various company names. He eventually settled on OMEGA—that's the Organization of Modern Extreme Grappling Arts—and finally got a real ring when investor Thomas Simpson came into the fold. Hardy, meanwhile, along with younger brother Jeff, had started piling into vans to hit WWE TV tapings up and down the east coast, where they would lose to the stars in reliably brutal fashion.
Even then, though, Hardy was clearly a better athlete than the average TV "job guy," and, according to the book the brothers wrote together, all those losses raised the pair's stock to the point that they could get better pay by dealing directly with WWE instead of being wrangled by veteran wrestler The Italian Stallion. That eventually led to a developmental contract with the promotion, which wasn't close to what it is now. WWE might send a developmental talent to an affiliated smaller promotion, but for a lot of wrestlers, including the Hardys, the deal was more or less a stipend that kept them tied to WWE while they continued to work independent shows. After a series of particularly strong B-show matches with Edge and Christian, the brothers got brought to the main roster to do the same matches on a bigger stage with '80s legend Michael Hayes as their manager and real life mentor.
While the brothers capture their first titles in WWE during those few months in mid-1999 with Hayes as part of the on-screen Hardys act, it wasn't until a few months later when the Hardys truly became stars. In-ring wrestling in the company had largely been bad all year, and that helped them stand out even before they landed a major showcase: a ladder match with Edge and Christian. Filled with innovative moves that had never been seen before, it was easily the best match in the company all year, and drew a rare standing ovation live. It was also the beginning of problems for everyone in the match, as ladder matches quickly became signature bouts for both teams. The physical toll that came from that was severe even by wrestling standards.
In the meantime, though, the Hardys' popularity exploded. They were among the youngest wrestlers on the roster and came off as some of the more approachable stars, which bolstered their popularity with young and teenage girls. That appeal grew when the high-flying tomboy Lita—Amy Dumas, then Matt's real-life girlfriend—was shifted into the act as the Hardys' manager. Putting her with the Hardys was a huge plus for everyone, and helped buoy WWE's overall popularity with female fans at a time when the rest of the product wasn't exactly empowering, to say the least. There was a downside to this mixing of in- and out-of-ring reality, and it became more pronounced once Matt and Lita became a couple on-screen in 2001. A real life breakup was going to be a lot more visible and fraught than it would have been otherwise, and could split the fanbase they'd built together.
The team was broken up in 2002 when WWE first split up its roster into the Raw and SmackDown brands. Matt thrived after reinventing himself as cocky heel Matt Hardy Version 1, with OMEGA alum Shannon Moore joining him as his flunky. His ring entrance, framed on TV as if it was displayed as part of a bad streaming video with "Matt Facts" displayed alongside it, was a favorite of hardcores, and he continued to have strong matches in the ring, as well. Jeff, though, fell into a funk after what WWE.com later confirmed was a refusal to enter a drug rehab program for what an early version of the WWE.com article—it was quickly edited—framed as "an addiction to pain killers [sic] and methamphetamine (crystal meth)." Matt thrived until he blew out his knee in 2004 and had to spend the next year at home. While there, in what became a very public story thanks in large part to Hardy's handling of it, Edge and Lita began a real-life affair. Not long after Matt spoke out about it, he got fired. This came off as punishing a wronged party, and the backlash was severe enough that he was quickly re-hired to, this being wrestling, help turn the whole thing into a storyline.
G/O Media may get a commission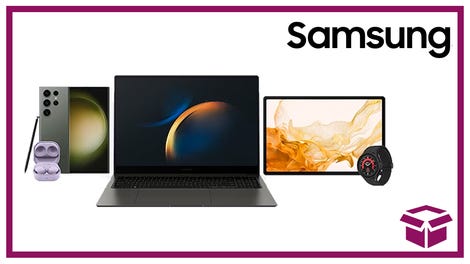 24 hour deals
Discover Samsung - Daily Deal
While the feud gave fans a series of enjoyably heated matches, Edge dominated and Matt soon became something of an afterthought. He continued to cultivate his "real life" persona through his own web presence and on social media, but the previously even-keeled counterbalance to the wilder Jeff was starting to come off, well, weird. Hardy's creative ideas were obviously dumb to just about everyone other than him, although he kept them coming. He was also somehow able to ignore the excruciating pain of appendicitis until his appendix burst, putting him out of action longer than the illness would have otherwise because the infection spread throughout his body. Online, he became increasingly oblivious, somehow not realizing that encouraging fans to organize a grassroots campaign to get him a better spot at WWE would backfire with the promotion. As Matt has admitted since then, at some point during all of this he developed a serious drug problem of his own. The public didn't really catch on until it got him fired from WWE in 2010, but likely would have if the videos like this one from The Hardy Show, the web series he and Jeff sold via subscription, had made their way to the the free internet sooner. (Jeff, weeks after leaving WWE in 2010 when his contract ran out, was arrested after a fan, acting upon the wrestler's request, sent him a package containing pills in a coffee can.)
At least some people in the WWE offices knew about Matt's issues longer: In "The Hardys: Woken," an episode of the WWE 24 docuseries on WWE Network goes in-depth on both brothers' drug addictions, most brutally with raw footage shot for a 2009 DVD release about Jeff. In one clip, the brothers and Jeff's wife, Beth, are shooting b-roll of them walking on the Hardy compound when Beth has to remind them that Jeff has a microphone on as they joke about trading pills. In another, Matt falls asleep while shooting a talking head segment, discouraging the production assistant interviewing him.
In spite of both what was visible in public and whispered about privately, Matt joined Jeff in TNA, which is now Impact Wrestling. That didn't last long, for obvious reasons: Matt's debut led the two longest-tenured wrestling reporters to talk about how "sluggish" and "glassy-eyed" he was during it, while Jeff was soon sent home after a match with Sting was cut short because he was clearly pilled up (Jeff cited Soma, a muscle relaxer, in the WWE 24 documentary), and Matt was sent away not long after that, in part because he posted a video of himself, his girlfriend (now wife), and Jeff shocking each other with a Taser. Hardy eventually went to rehab after multiple driving under the influence incidents and a bender at home, though he got kicked out of rehab for drinking before getting clean. After a few years getting their lives together and rebuilding their names on the indie scene, the two returned to Impact.
Which is maybe an understatement, given how dramatically and how weirdly the two reinvented each other. Matt, after proving himself, basically got creative control of the promotion's main event scene, creating the wild "Broken Matt" character that he eventually took to WWE as "Woken Matt." A feud with Jeff, fueled by offbeat videos masterminded by Matt and producer Jeremy Borash (now with WWE as well), got Impact the biggest audience it had seen during its recent dark years. Given the company's financial issues, though, was inevitable that they couldn't hold onto anything that picked up that kind of buzz.
If Matt Hardy is truly done—and that's a big if—then he'll have had a hell of a run. He turned his life around, returned to WWE on a positive note, and has shown everyone once and for all how sharp a wrestling mind he is when his head is clear. If he really wants a backstage job, it would be hard to imagine anyone more deserving. And if this is part of some reality-blurring storyline, perhaps something to put a bow on his career after tying up the "Broken"/"Woken" period, he'll have earned that, too.

---
David Bixenspan is a freelance writer from Brooklyn, NY who co-hosts the Between The Sheets podcast every Monday at BetweenTheSheetsPod.com and everywhere else that podcasts are available. You can follow him on Twitter at @davidbix and view his portfolio at Clippings.me/davidbix.