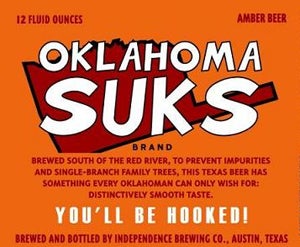 You know, we were fully aware that the Oklahoma-Texas football rivalry — if you missed it in all the playoff business roaming around these parts, they play this weekend — was a pretty big deal, but we'd always felt it lacked the critical component of beer.
Ta-da! It's the Oklahoma Suks beer, and apparently, according to Burnt Orange Nation, you can actually buy this at Austin supermarkets. It's rather steep — $16.99 for a 12 pack — but it's "dark, rich, very malty," just like Mack Brown.
We encourage other fevered sports rivalries to start producing their own booze. Eagerly, we anticipate the "Bartman Brew" in St. Louis, the Alex Rodriguez Cherry Mai Tai in Boston and, of course, Philadelphia's famous "T.O. Highball Cocktail." Use only as directed.
It's True: OU Sucks Beer Is Here [Burnt Orange Nation]
(UPDATE: There is, obviously, a Texas Sux beer too.)