Last night, Magic Johnson had some relatively strong (hypothetical) words for the Lakers coach and key big men.
"They're going to run Mike Brown first out of town," Johnson said as an ESPN NBA analyst Friday. "Then second will be [Andrew] Bynum. Then third will be [Pau] Gasol."
"His job will go," Johnson continued, "[t]he Lakers are about championships. That's what the Lakers are about. If they lose this game, Mike Brown, I bet you, will not be sitting there." Johnson used to be a minority owner in the team, but he sold his 4.5% stake in 2010. He remains on the Lakers payroll with the title Vice President. He is also an NBA analyst for ESPN.
It's always tough when Hall of Fame player or team icon takes on the role of "analyst" because he or she is so identifiable with his or her respective teams it's impossible to look at them as anything but a homer. This situation is even more confusing and potentially dangerous since Johnson is actually a Lakers V.P. (like the Queen of England is the Queen, but still). Also, you know, he's Magic Johnson. If Phil Jackson said he thought Mike Brown would be fired, people would poke their heads around the morning paper and take a listen. When Magic Johnson does it? They fold the paper, set it down, and turn the volume up.
The Lakers have given the vote of confidence to Mike Brown but they have also listened to the advice of the ESPN-dubbed analyst before. But for a David Stern veto, the Lakers had this team blown up.
"Mike Brown will not be coaching the Lakers if they lose this game," Johnson said. "There would be so much pressure on Jim Buss and the Laker organization to get rid of him."
G/O Media may get a commission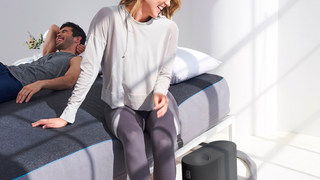 Eight Sleep Pod Cover
Huh. Wonder where that pressure could be coming from.
Magic Johnson: Mike Brown will be fired if Lakers lose to Denver [LA Times]