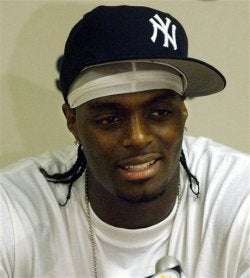 According to the New York Post's Page Six, Giants wide receiver Plaxico Burress had a difficult time breaking through the coverage last night.
IT'S hard out there for a professional athlete who gets no attention from the usually man-hungry ladies at Clifton, N.J., nightspot The Bliss Club. Sources say New York Giants wide receiver Plaxico Burress insulted female patrons there and "left the club without paying his $2,000 tab."

It seemed that Burress was upset Wednesday night because "no women were paying any attention to him."
If Plaxico Burress can't get laid in New Jersey, then I just don't know what to make of this world anymore. And he's totally justified in walking out on that $2,000 tab. That's the "No Poon For Plaxico Tax" that every club in the NY/NJ area is subject to when Plaxico Burress can't pull any trim.
When a guy spends that much time around Eli Manning, maybe Eli starts to rub off.
Giant in Small Performance [Page Six]