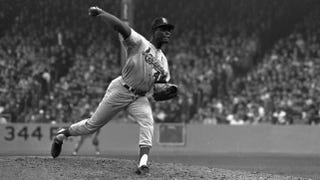 Look, please, for pity's sake: Justin Verlander pitched a mediocre game last night. Craggs already said his piece about the frantic efforts of the sports press corps to sculpt the pile of horse poop Verlander left on the pitcher's mound into a living, breathing unicorn. The relentlessly genial Joe Posnanski is politely (and correctly) suggesting that his colleagues, in their insistence on celebrating Verlander's greatness this postseason, are engaged in a humiliating and ridiculous mass delusion (being Joe Posnanski, the way he says this is, "Am I just not seeing it?").
But here's Tom Verducci declaring that Verlander "consolidated his status as one of the elite pitchers of his generation" by pitching a "signature postseason game":
Verlander took the ball knowing that his team was facing elimination and knowing that his team's two best relievers, Joaquin Benoit and Jose Valverde, were not available. Manager Jim Leyland announced to the world—and most especially the Texas Rangers—that he was not using Benoit and Valverde because they needed a day off.

What Verlander, who allowed eight hits and four runs with eight strikeouts in 7 1/3 innings, did was go all old school on Texas. It was a game Bob Gibson would have been proud of. It wasn't just that Verlander threw a ball faster than he had all year. It was that he did not leave the game until he had thrown 133 pitches. The last one, one out into the eighth inning, traveled 100 mph, and left the park courtesy of Nelson Cruz.
That last line would be a hilarious piece of self-parody if there weren't so many other people writing the same thing: But it was a BLAZING FAST meatball! And this is the specific point where the Legend of Justin Verlander, Gritty Baseball Hero, falls apart. What made Verlander's performance so great, the writers are all telling each other, was that he sucked it up and threw 133 pitches, on a night the Tigers were trying to protect their bullpen.
Here's Fox Sports' Ken Rosenthal narrating Verlander's defining moment of courage:
The seventh inning was over. Verlander's pitch count was at 123. Jim Leyland, the Tigers' manager, had said before the game that he did not want to push Verlander—the team's ace now and through at least 2014—beyond 125.

But Verlander, after an efficient, 10-pitch seventh, was in no mood for conversation. The Tigers, trailing three games to one, had a seemingly comfortable 6-2 lead in Game 5 of the ALCS. But Verlander knew that the Tigers' pitching staff, in the words of Leyland, was down to, "Verlander and Verlander and Verlander . . . and maybe (Phil) Coke."
Yes, Verlander went back out for the eighth inning, to save the bullpen, to save his team—
And he failed.
He just failed. It's a fact. Jim Leyland took a gamble, and he lost. This happens with gambles, in baseball.
Was there really no one in the Tigers bullpen who could have thrown 10 pitches, gotten one batter out, and given up two runs? Because that's what Verlander did, in his valiant eighth inning—or rather, in the one-third of the eighth inning he was able to get through before Leyland had to go to the bullpen anyway.
By pushing himself past 125 pitches, Verlander turned what had been a successful if labored two-run outing into a four-run mess. Luckily for him, his teammates had put 7 runs on the board by then, so they won the game anyway. But the Tigers survived despite Verlander's willingness to keep pitching, not because of it.
It's kind of insulting to Verlander for his admirers to keep saying otherwise. He's a great pitcher. He knows what a great game is. This wasn't one.
As for "a game Bob Gibson would have been proud of"...What can we say about how Verlander's performance compares to Bob Gibson's postseason work? Plenty!
• Justin Verlander allowed more runs in 7.1 innings than Bob Gibson allowed in the entire 1967 World Series, in which Gibson started three games and pitched all 27 innings of them.
• Justin Verlander, on the night he saved the Tigers bullpen, pitched 7.1 innings and required 1.2 innings of relief. Bob Gibson, in nine career postseason starts, pitched 81 innings and required 1 inning of relief.
• Bob Gibson won one postseason game by a 7-5 score, the way Verlander did last night. It was Game Seven of the 1964 World Series. Statistically, it was slightly better than Verlander's game—a complete game, 5 runs, 3 walks, 9 strikeouts—and it was the worst game Gibson ever pitched in the postseason.
• If Bob Gibson had given up 4 runs in 7.1 innings in each of his postseason starts, matching Verlander's performance, his postseason record would have been 2-4 with one no-decision, rather than 7-2. The Cardinals would have been winless in the three World Series Gibson pitched in, rather than 2-1, and they would have been eliminated before even reaching the seventh games Gibson pitched and won in 1964 and 1967.
Besides that, sure, yeah, Tom Verducci: Bob Gibson! Tom Verducci is a Hall of Fame voter.