Welcome back for round two of open threadspin. Remember, if you see something, say something. You will probably get approved.
The best sports movies according to Toheeb Jimoh
Baltimore at St. Louis (CBS): When I think of depressed cities, I don't even think of these two. That's how depressing they are. Nevertheless, this game features two young and not terrible quarterbacks that no one really seems to talk about nationally. It's all "Cam Newton [this]" and "Mark Sanchez [that]" and "Chad Henne-is-sensitive-so-please-don't-boo-him-fans." The game may also feature a banged up Steven Jackson. So, there's that.
NY Jets at Oakland (CBS): I hope everyone is ready for the return of Weinergate. This episode involves a professional athletic team searching for a reason to play at a really high level on the one day a week they get to do so. Pride? The satisfaction of a job well done? Guilt, in part due to the large sums of money received to perform said job? Close. A dude once ate a hot dog after a demoralizing blowout. Just win, babies.
Kansas City at San Diego (CBS): Kansas City has scored a combined 10 points in its two losses while giving up a combined 6,493,834 points. If only the Chiefs could re-start on NFL.com, too. Here's your Wow, the AFC West Really Stinks Quote of the Week: "This Week 3 matchup features two teams that have combined to win the last five AFC West championships..."
G/O Media may get a commission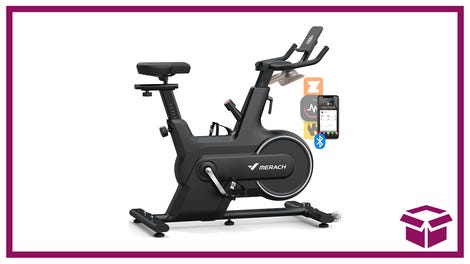 14% off + Coupon
Merach Indoor Cycling Bike
Arizona at Seattle (FOX): Fictional Character Associated With the Region Game Simulator has got a real barn burner for us here. John Rambo vs. Jeremy. One would think explosive arrows and shoulder-mounted rocket launchers would be no match for a maladjusted teen, but FCAWRGS unleashed a lion. Seattle, arms raised in a V.
Atlanta at Tampa Bay (FOX): If you consult your handy viewing guide, you'll notice that for the 10th consecutive time, a Buccaneers' home game will be blacked out in Tampa Bay. "The Bucs say none of the remaining games are sold out."
Green Bay at Chicago (FOX): Coach Mike McCarthy created a 12 minute long highlight reel to impress upon his rookies that "There's never a lack of juice any time we play the Bears." Unfortunately, 10 minutes of the reel was just McCarthy ripping his Sharpie out of his hat as though a sword from its sheath yelling "BY THE POWER OF MY SKULL!"
What You're Watching
Via The 506. CBS:
FOX: