Maybe you're one of those basketball aesthetes who dreads March Madness, who just doesn't understand why anyone would want to watch a bunch of semi-skilled college kids try to hump a ball into a basket 35 seconds at a time. That's fine! You can hate college basketball all you want, but I'm here to tell you that if you are one of these people, you should root for the Iowa State Cyclones.
The Cyclones don't play like a normal college team. When head coach Fred Hoiberg, a former NBA player who will very graciously answer questions about his alleged marijuana consumption, arrived on campus in 2010, he installed a pro-style system that quickly transformed Iowa State into a deadly offensive force. Hoiberg's Cyclones have finished in the top seven of Ken Pomeroy's adjusted offensive efficiency rankings each of the last three seasons, and Synergy Sports ranks this year's team as the 14th-most efficient in the country, producing .993 points per possession. That's a big deal for a small school that consistently gets out-recruited by the big boys, and has only had one second-team and one third-team All-American on the roster during Hoiberg's tenure.
Hoiberg, like a lot of smart NBA coaches, understands that not all shots are created equal. He's effectively eliminated the long two-point shot from his team's arsenal, and instead emphasizes attacking defenses at the rim and from behind the three-point line. It's a philosophy that's basically NBA dogma for anyone not named Byron Scott, but it's still overlooked in the college game to the extent that prizing efficiency gives the Cyclones a real edge over other, more talent-rich teams. Best of all, Hoiberg's players have completely bought in (via The Topeka Capital Journal):
"We're at the point now where we just don't question anything he says," ISU senior forward Dustin Hogue said. "If he says it, I guess it works."

[...]

"I feel like, to an extent, it's outsmarting our opponent if they're going to shoot long 2s," ISU forward Georges Niang said. "If we play in a game and you're going to shoot long 2s instead of 3s, it just mathematically doesn't make sense, and there's proven facts behind that."
G/O Media may get a commission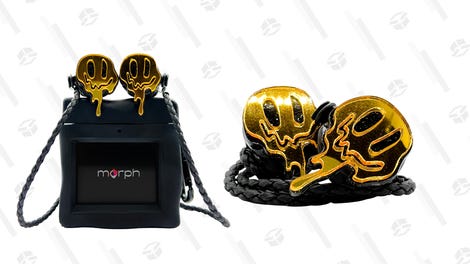 morph audio
Morph Earphones
But it's not just that the Cyclones play a smart brand of basketball, it's that they play an exciting brand of basketball. They run like hell in the open court, and their halfcourt sets brim with fast-paced action. They initiate offense early in the clock, run a ton screens, and swing the ball all over the floor. The Cyclones bend defenses to their will with the kinds of actions and sets that would be perfectly at home in an NBA game, creating lanes to drive to the basket and space for spot-up shooters to turn kick-out passes into points. Look at how nice this is:
That's good shit! The meandering incompetence that turns so many people off of the college game—offensive sets that take an eternity to initiate, ball screens that lead to nothing, guys who can't shoot settling for contested heaves—is nowhere to be found. Hoiberg runs out a lineup of long, versatile players—6-foot-8 point-forward Georges Niang, who is often unguardable, is a favorite of mine—that overwhelms teams with a quick and punishing style. Hell, last year he turned DeAndre Kane into college basketball's James Harden for a couple weeks. It almost makes you feel bad for the overmatched defenses that must feel like they've accidentally stumbled onto an NBA court.
If your college-basketball hating ass still isn't convinced, consider the Cyclones' recent run of dramatic wins. They've come back from double-digit deficits in their last five games, including all three of their Big 12 tournament wins. Against Oklahoma in the semi-final game, they erased a 21-point second-half deficit to win 77-70, and they looked good while doing it:
I'm not here to tell you that should love college basketball. I mean, this is the sport that nearly massacred basketball as a concept during the 2011 championship game, but March Madness is easier to embrace than it is to ignore. It's a lot more fun when you have a vested rooting interest, so why not pick the pro-style team that can fast-break, snipe, and rim-attack its way to a 19-0 run on a big stage? This is the team that got bounced from the 2013 tournament by a game-winning three from Aaron Fucking Craft, for Chrissakes. This is your team, man.