You can say a lot of things about Southern Methodist University: lots of spoiled kids go there, it has the George W. Bush library and is proud of it, that whole death penalty thing, etc. etc. and then some. But for me, it is of some great personal significance that they're even playing in the NCAA tournament at all.
Let me explain. My father was a long-suffering SMU fan, and I mean Moses in the desert for 40 years long-suffering. He graduated from SMU in 1971. He was an SMU cheerleader back when that was a thing when cool guys did. (Or at least that's how I imagine it because my dad was a real firecracker and about as painfully extroverted as myself.) In any case, in the early '80s, SMU had an unstoppable football team. They co-won a national championship in 1981, had a Heisman finalist in 1982, and from 1980 to 1984 was the winningest team in Division I. In other words: they were good. But in 1987, it all went to shit.
SMU was and is the only football program ever to receive the death penalty, which is about as bad as it sounds. SMU was fatally punished because it was, essentially, paying its players. So the NCAA made an example of the school, and shut down the program entirely for the year of 1988. That meant no playing, no practicing, no recruiting, nothing. The thing about shutting down a program so absolutely is that the punishment doesn't last just a year. Nope! SMU has been recovering from the death penalty ever since. They went 25 years without going to a bowl game. They had one, and only one, winning season until 2007. They are reliably bad.
But all throughout that time, my dad was a fan. A huge fan. My brother and sister and I grew up going to games at Ownby Stadium. (It doesn't exist anymore, having been demolished in 1998 to make way for the brand new beautiful Ford Stadium on the same site.) In the meantime, we went to SMU games at the Cotton Bowl, just south of there on the grounds of Fair Park in Dallas. Those games were always hot, the mustangs always lost, my dad moaned and groaned, but you bet your butt we went. To a lot of them.
G/O Media may get a commission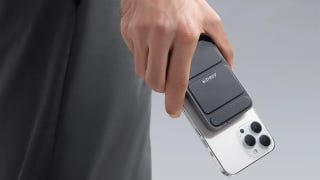 15% off
15% off Anker Top Ten Products
Take charge
Treat yourself to a portable power bank, a magnetic wireless battery for iPhones, or even a solar generator. There is a reason these are in the top ten. For instance, the Anker 747 Power Bank is a 4-in-1 charger utilizing USB-A and USB-C to be capable of charging up to four devices at once. Great to take with you when traveling and in need of keeping your phone, laptop, and even Nintendo Switch powered on.
My dad agonized, utterly, over SMU athletics. He had season tickets for football and basketball games for as long as I can remember. He knew the team would be bad. He felt the weight of their terribleness. I could see it when he put his head down in his hands in between his knees in those red stadium benches. I could hear it in his voice, yelling with deep emotion at the TV as his guys predictably lost game after game after game. His emotion toward the Mustangs was almost supplication. My dad was a religious man. A good man. He hoped and pleaded with ponies. He did everything short of literally pray that this season would be the season SMU would return to its previous glory. I remember going to the 2008 game against the University of Reno when they finally won and were invited to a the Hawaii Bowl. The 'stangs won that game handily. They beat the Wolfpack 45-10. But with SMU, there was (and is) always a chance they would blow it. When the clock ran out, I looked over at my father in his Mustang red. There were tears in his eyes.
So last year, when the SMU men's basketball game made it to the semi-finals of the NIT, it was a big deal. A big, big deal. I hadn't paid a lick of attention to SMU sports in years. I got a nearly unintelligible phone call from him a few days before the game, which was to be played in Madison Square Garden. All I could make out in the phone call was "LESLIE ... basket ... ball ... coming to New York ... SMU ... win ... game ... Garden ..." or something like that. I asked him to pass the phone to my mother. SMU was going to the dance. Not the big dance. The little dance. But they were going to a dance! And hoo boy, Doug Horn was going with them. Harking back to his cheerleader days, when he arrived in New York, he proudly told me the tale of him leading his entire flight in Peruna, the Southern Methodist University fight song. I have no idea how many people on that flight were flying to New York City specifically for that game. Dallas to New York is a popular route. New York is a big city. SMU is a small school. My dad didn't care. He was proud as hell and ready for some college basketball.
My dad was lit. I mean, he was in New York to watch his team play at a competition level at which he had not seen them compete since the early '80s, before I was even born. And he grew up an SMU fan, too by the way. His dad went there. His mom went there. His parents first date was at an SMU football game. One of his uncles was a German professor there. It runs deep. Coming to New York was a big deal.
We went to a tailgate, or a "tailgate" as my gutter-ass Mizzou diploma will call it. It was this mixer-type thing with a bunch of alums at a bar right by the Garden. But if you think we were allowed to stay longer than a beer's worth of time or 30 minutes before tip off, you are dead wrong. We were in and seated well before the game started. We weren't just casual ball-watchers either. We were highly engaged spectators. I say "we" because my dad's enthusiasm for his team was infectious. He barely sat in a game. He didn't join in on cheers; he started them. They beat Clemson in the first game. It was a Tuesday. Do you know what that meant? My old man was staying for the weekend. The finals were on Thursday against Minnesota.
Coincidentally, my family was coming for in for the weekend, to celebrate my father's 65th birthday. So it worked out that my sister went to the final game with us. Now, I should note that neither of us matriculated at Southern Methodist. Actually, neither did my brother. But we all inherited his love for the team, so we went with it with the same kind of gusto, although his spirit was impossible to match.
My dad was so into the game that he wouldn't even look at the camera while the clock was running. (Photographic proof below.) He was so involved you would have thought he had bet the ranch on the ball game. But he was neither a ranch owner nor a betting man. He simply loved his team, an organization he had thrown so much love and emotion into throughout his life. SMU lost the game in the last minute. It was a great game. It would have been incredible if they had won. I am certain we would have stormed the court. Winning would have been the cherry on top of a sundae we had already eaten. It would have been a second helping of an already-excellent meal.
So the fact that SMU is in the tournament in any capacity at all means a lot. I wish my dad were here to see it. He died unexpectedly last July. Weirdly, he died on SMU campus, riding his bike right in front of Dallas Hall, pretty much in the middle of campus. I think if he had been given the choice, that is where he would have chosen to leave this planet. It was home.
A great thing about my dad is he was predictable and absolute in how he felt about things. He loved fiercely, and he loved his school. So right now, at this moment I can be completely certain he is doing flip-flops in his grave that SMU is in the tournament. As for me? I hope they take the whole thing. I doubt that will happen. But who knows? I suppose that's why people love March Madness so much. But who cares! They're there. Now cue up Peruna for me.