The Lafayette Leopards have been to the NCAA tournament three times; they have never won a game. They probably won't get their first victory tonight against Villanova—6:50 p.m. on TBS!—since a No. 16 seed has never beaten a No. 1 seed in the tournament. However, we still want to take a minute and recognize this team, primarily for their whiteness.
The Leopards punched their ticket by beating American in the Patriot League tournament final, 65-63. Here's roughly a minute of footage from that game:
As you might have noticed, they're white. All of them. (Update: It has come to our attention that one of Lafayette's players, sophomore Monty Boykins, is not a mayo boy. The fact remains that this team is overwhelmingly white. Thank you.) If you really like mayo boys—a term that should be obvious in context—this is the team for you.
The 20-12 Leopards lost to Navy and Bucknell in back-to-back games at one point in the regular season, but they're still formidable. Hell, this team has the eighth-best field goal percentage (.488) in the nation. They can (possibly) give Villanova a headache if they keep sinking threes.
Lafayette's most productive mayo boy is senior center Dan Trist, an Australian with 17.3 points per game and a .580 field goal percentage. Here he is practicing:
G/O Media may get a commission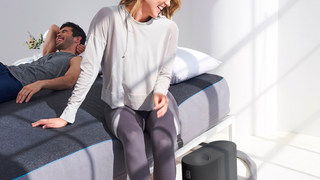 Eight Sleep Pod Cover
The Leopards have two other mayo boys who average double-digit points. Senior forward Seth Hinrichs racked up 13.1 points per game and holds a .392 three-point percentage; sophomore guard Nick Lindner comes into the tournament with 12.8 points per game and a .400 percentage from beyond the arc.
This rowdy group of mayo boys is coached by mayo man Fran O'Hanlon, who's been with the Pennsylvania-based program for 20 years. Enjoy them while they last.
Photos: AP