Tommy B. got home from last night's Detroit/Phoenix game but despite a Game One victory, he was sad. Sad because he had a run-in with Johnny Law. This, because he threw an octopus on the ice.
I'll let Tommy take it from here, but keep in mind that he had a couple cocktails to accompany his creature tossing, so bear with him ...
I have gone to 90 percent of the Detroit Red Wings playoff games over the last eight years. I toss an octopus per tradition in Game 1 and with eight games left. I have thrown eight octopi in the last five years.

I walked into the arena with it in a bag. They asked me what in the bag when I walk in. I showed it. They said have fun. After the first Wings goal, [and] after 5 octopus have been tossed, I threw mine. In my hand, asinine, walking from the upper deck to the lower, every guard and security person let me down and said "go." I walked down 25 seats and tossed it on the ice during the stoppage after the goal and they were cheering me.

All of a sudden, a guy from there said, "You're going to jail. Come with me." Granted, not a thing happened to the prior folks, or any other game. I went down and was charged. Really, it's AN octopus in Detroit in a hockey game! They kick me out, fined me $500 and I have to go to court. I paid $150 for my ticket [but] now will pay $500 more. That's $217 a period.
When I asked the cops they were laughing and said [Commissioner Gary] Bettman started the rule at the start of the 2nd period. Really new rules. In between periods.

Bettman, you are terrible. It's not an airplane. It's an octopus, although you wouldn't know [about] tradition.
We are all Tommy B.
UPDATE: From the Red Wings:
"The throwing of objects onto the ice surface is prohibited by the National Hockey League and persons caught doing so may be subject to prosecution for violating local and state laws."
G/O Media may get a commission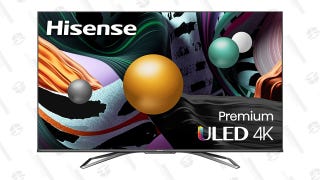 Save $350
Hisense ULED 65" Android 4K HDR Smart TV
It's not a new law — city ordinance 38-5-4, which prohibits throwing objects on the playing area during sporting events — but the directive to enforce it came down Wednesday from the league. Wings blog On The Wings spoke to Detroit police, who say that while they have no problems with the tradition,
police supervisors were informed Wednesday night, either before or during the game, by League representatives that they don't want anything thrown on the ice. An officer has to witness the throw and nab the thrower on the spot, but it's something they can and will enforce. Apparently, distance from players is not an issue: any octopus on the ice is grounds for ejection and a fine.