Maybe you're one of those people who pushes all the difficulty sliders in your favor when you play NBA 2K15, or forces all the other teams to trade you their best players when you start up a Madden franchise. Maybe you only enjoy victory when it's achieved on the most destructive terms, your opponent left broken and hopeless. If this is the case, the team you should be rooting for during this year's tournament is Kentucky.
The Wildcats are a powerhouse, but you didn't need to look any further than their 34-0 record to figure that out. They've got a chance to finish the season as the first undefeated team since the 1976 Indiana Hoosiers, but even that fact doesn't quite convey just how much of a favorite this squad really is.
Consider that the Wildcats are the only team in the country to rank in the top five of both Ken Pomeroy's adjusted offensive and adjusted defensive rankings. After adjusting for opponent, Pomeroy has them scoring 119.9 points per 100 possessions (fifth-best in the country) while only allowing 85.7 points per 100 possessions (second-best in the country). Since Pomeroy started tracking these numbers in 2002, only four other teams have finished a season in the top-five in both categories. All of those teams reached the national championship game, and two of them won it.
Kentucky has outscored opponents by an average of 20.9 points per game. They beat UCLA by 39. They hung 110 points on Auburn. They beat Kansas by 32. They held Mizzou to 37 points in a game. They do stuff like this by following a simple formula: having a lot of players who are bigger and better than everyone else.
Kentucky is the tallest team in the country, boasting a rotation that includes three 6-foot-6 guards and a frontcourt featuring four stone-made giants in Karl-Anthony Towns (6-foot-11), Trey Lyles (6-foot-10), Dakari Johnson (seven-footer) and Willie Cauley-Stein (seven-footer). They have eight players who average more than 15 minutes played per game, and nobody besides Aaron Harrison and Devin Booker scores more than 10 points per game. This is the complexion of a team that has more depth and skill than it knows what to do with, one that can smother opponents with any combination of players. They lost former McDonald's All-American Alex Poythress to a torn ACL just eight games into the season, and it didn't slow them down a bit.
G/O Media may get a commission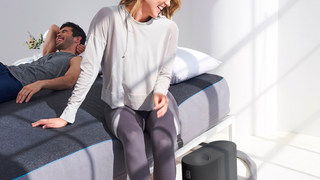 Eight Sleep Pod Cover
It's hard to pick out one thing in particular that makes a team that is so dominant hum, but the frontcourt duo of Towns and Cauley-Stein is a good place to start. They're two of the biggest, baddest motherfuckers in the country, and they treat opposing frontcourts like the monsters from Rampage treat buildings.
None of this is really fair:
Nor is any of this:
Behind Towns and Cauley-Stein, Kentucky has constructed one of the most dominant defenses in college basketball history. The New York Times has a great breakdown, from which this particular passage sticks out:
Another way to understand the Wildcats' unusual combination: The defense gives up only one assist every 10 possessions. That helps explain how difficult it is to find open teammates and create good shots against Kentucky's platoons of tall, skilled big men, who manage to defend both shots and passes.
The 2015 Kentucky Wildcats are a team of space monsters that scores a shitload of points and throttles teams on the defensive end to the extent that it's hard just notch an assist against them. They are going to make it to the championship game, and they are going to leave a trail of bloody limbs behind them. If rooting for a squad that plays on Rookie Mode in real life is something you might be into, then this is your team.