The U.S.'s shootout win over Russia on Saturday—and the accompanying canonization of T.J. Oshie—wouldn't have occurred if not for a disallowed goal late in regulation. The call was controversial, correct, and unfair. Now international hockey's governing body is making sure it doesn't happen again.
Jokic? Embiid? The NBA MVP is obvious... right? | Keep it a Buck(et)
Fedor Tyutin appeared to give the Russians a 3-2 lead on a slapshot with 4:40 left in the third. But after the officials conferred and consulted the replay, the goal was waved off. The net was ever-so-slightly off its mooring, the left peg bent after being hit by goalie Jonathan Quick earlier in the sequence.
IIHF rules are clear here: "No goal shall be allowed...if the goal net has been displaced from its normal position, or the frame of the goal net is not completely flat on the ice."
Which didn't make it any easier for Russians to take. Fans gathered near the U.S. embassy in Moscow to protest American ref Brad Meier, whose only crime was being on the phone with replay officials. They brought signs and chanted "make soap out of the ref," which might be idiomatic to an extent, but they also grated bars of soap. (Fans also took to making internet memes, some of which are pretty funny.)
G/O Media may get a commission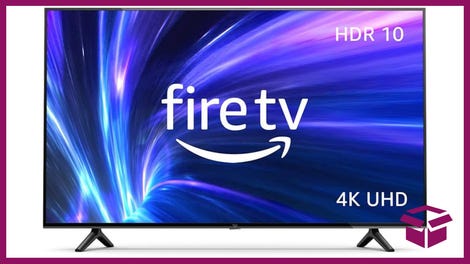 42% Off
Amazon Fire TV 50" 4K Smart TV
The goal would have counted in the NHL. The rule is more complicated, but as long as the net was uprooted by the defending team, it's a judgment call by the officials whether the puck would have gone in had the net stayed in place.
The IIHF intends to go that route too. President Rene Fasel spoke to reporters today. From Championat.ru, via and translated by Puck Daddy:
What can you say about the disallowed goal because of the dislodged net?

"We will change that rule. To disallow a goal because of two centimeters? That's nonsense. But that is the existing rule, nothing can be done. That's why I think that this rule needs to be changed and officiate the way it is done in the NHL. That's what we will do."
There's no logic in the IIHF rule as currently constituted. Not that Quick's dislodgement was or could have been intentional, but why penalize an attacking team for something out of their control that didn't materially affect the play? A rule change now is small consolation for Russia, who are staring down dates with Finland and Sweden even before a gold medal game, but better late than never.