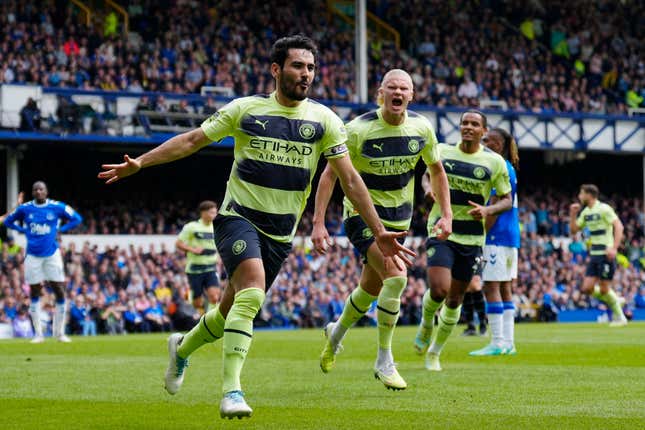 A lot of the joy of sports comes from watching men and women do things we can't possibly do, or would never have been able to do. We live to be amazed, and sometimes can't even conceive of how a particular play is made. The logistics just don't add up, with where the ball was landing or the speed it was traveling, the amount of defenders in the way, or whatever else.
Can Liverpool Win The Quadruple? | What You Need To Know | FA Cup
And then there are the feats that just look like they would lay us up for months at a time. Witness Ilkay Gündoğan score this goal that would have had most of us launching our groin into space while our right hip went on strike:
'
Gündoğan never even looks at the goal, just knows where it is, and even takes a bad first touch (there's no way he meant to pop this up behind him). And yet it doesn't matter, as he can improvise this flick facing the wrong way with a defender on his back, and put it pretty close to the corner for good measure.
This is the most deflating thing about playing City. Everton had actually kept them pretty well wrapped up all the way to halftime, and yet there are always at least six guys on the field who can just come up with some individual piece of brilliance you can't plan for. And that's with City resting a bunch of players for their Champions League semifinal second leg on Wednesday against Madrid.
That goal, and then the second that Gündoğan added later (leading to a hilarious picture of Jordan Pickford), would wrap up the title for City after Arsenal were humped by Brighton 3-0 at home. This is becoming a habit for the City captain, who scored twice in the final game last season to secure the Premier League for his employers (grumble, grumble). The German kind of floats under the radar at City even despite being captain, not as celebrated as Haaland or De Bruyne or Rodri or being as expensive as Grealish or Mahrez. He wasn't even seen as stitching everything together in the past as the Silvas, Davids, or Bernardos.
But there he is again, fourth in minutes this season for City outfield players, being the perfect compliment to De Bruyne and Rodri in midfield with the ability to play as the deepest or join the attack to score goals, and every goal he scores seems to be vitally important. Just in the past month, he's opened the scoring against stubborn sides like Sam Allardyce's version of Leeds or Everton today. He's often the final piece against teams that are just bunkering down against City, the player they can't seem to pick up or stop.
Gündoğan is out of contract this summer, and the rumors have percolated that Barcelona are hot on his tail even though they don't have any money (not having any money apparently doesn't matter as long as you believe you have money). He'll turn 33 next season, and maybe City want to start getting younger in some spots. Maybe he just wants a new challenge. It never feels like City will miss any player who leaves, given their depth and ability to replace anyone with anyone. And yet Gündoğan feels like one they may have wished to hold onto a little longer should he depart for Spain.
He certainly has a habit of putting the final touches on their biggest accomplishments.