It's being reported that Ilya Kovalchuk, 27 years old, re-signed with the Devils for 17 years and $100-plus million. What gives? Oh, nothing. Just New Jersey taking a dump on the salary cap, and wiping its ass with the CBA.

So, yes, Kovalchuk is under contract until he's 44 years old. There's no way he plays out the length of the deal. He knows it, and the Devils know it. To that end, you can bet the contract is frontloaded, with him making big money the next 12 or so seasons, then a pittance for the remainder.
What's the point? Well, the easily-abused NHL CBA is the point. A frontloaded contract helps the team twofold:
First, when he's at the end of his career, they can move him or dump him without his contract being a burden. But second, and most importantly, the CBA dictates that the salary cap hit is determined by averaging the annual payments over the length of the deal.
Kovalchuk turned down $101 million over 12 years from Atlanta. The Devils couldn't afford to give him more money than that thanks to their salary cap space, but they could give him more years. Which, in the end, equates to more money.
Let's say Kovalchuk's deal pays him $9 million per season for the first 12 years of this deal, then $1 million a year for the final five years. That's a very affordable cap hit of about $6.5M per season for New Jersey. And should he retire after 12 years, because $1M annually doesn't sound so enticing to a 39-year old multimillionaire, his cap hit comes off the books altogether; Jersey doesn't pay a thing for those last five seasons.
G/O Media may get a commission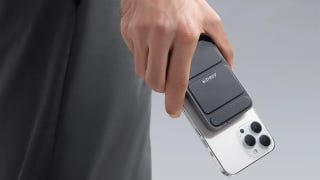 15% off
15% off Anker Top Ten Products
Take charge
Treat yourself to a portable power bank, a magnetic wireless battery for iPhones, or even a solar generator. There is a reason these are in the top ten. For instance, the Anker 747 Power Bank is a 4-in-1 charger utilizing USB-A and USB-C to be capable of charging up to four devices at once. Great to take with you when traveling and in need of keeping your phone, laptop, and even Nintendo Switch powered on.
We don't know the exact numbers yet, but rest assured the contract will be essentially that: overpaid for his productive years, underpaid for everything after. And the salary cap hit remains manageable. It's almost become SOP in the NHL.
We've been down this road before, when the league looked into the frontloaded contracts of Marian Hossa (8 years at $8M per, then 2 years at $1M per) and Chris Pronger (5 years at $7M per, 2 years at $500K per). It's technically illegal to agree to deals that neither side has any intention of honoring to completion, but nothing came of those investigations because it's near impossible to prove intent in cases like these.
So we continue to beat the drum, not hopeful of effecting any change, but perhaps of getting more people to take notice of what a scam frontloaded contracts are. Maybe when it's time to renegotiate the CBA, they'll just decide to make the salary cap hit whatever a player's making in that given season.
Nah. That'd be too easy.
Update: Here are the year-by-year payments:
2010-11: $6 million
2011-12: $6 million
2012-13: $11.5 million
2013-14: $11.5 million
2014-15: $11.5 million
2015-16: $11.5 million
2016-17: $11.5 million
2017-18: $10.5 million
2018-19: $8.5 million
2019-20: $6.5 million
2020-21: $3.5 Million
2021-22: $750,000
2022-23: $550,000
2023-24: $550,000
2024-25: $550,000
2025-26: $550,000
2026-27: $550,000