From dealing with her handlers or her publicist or assistant or handbag holder or whatever other title given to the people hired to manage Sarah Silverman's Literary Life, this live chat, dear loathsome readers, sucked.
Everyone was awful except David Hirshey. Hirshey, if you don't know, had the not-so-pleasant task of editing and shepherding this book to its final bound Bedwettedness. He was outstanding and I appreciate his doing his part to pull this together for us. And those of you who've read this site for a long time should buy many, many copies of this book for friends (Facebook or otherwise) because he deserves your support.
But Sarah. Oh, Sarah.
She's a funny lady. I've been a huge fan of her stand-up for quite some time, dating back to this Black Table story Leitch and I wrote because we were both so enamored with what Sarah Silverman had done to Transform Comedy. (Yeah. I know. We're idiots.) Leitch was scheduled to do the NY Mag profile (which was great, btw), and I pushed for the Deadspin chat because, you know, why the fuck not? Regardless of how chaotic and hectic these things tend to be, most of the authors who participate do manage to sell a few books when they do this. That is the end goal for such lofty literary endeavors. And, as I said, I think she's funny. What could possibly go wrong?
As we've found out, everything. This was a drain from the get-go and Sarah and her team of People Hired To Make Things Run As Smoothly As Possible were, frankly, not helpful. Yes, I know, the commenting system here can be somewhat challenging. Especially since Sarah refused to get on the phone and passed along the menial task of signing up for commenting abilities to her even more disinterested "assistant" who shrilly interjected that if Sarah "signed up" for commenting "she does not want to start getting spam from Deadspin." (For the record, you only get "spam" if you sign-up for the newsletter. Subscribe now!) I also found it quite astounding that Sarah, who admits in her book she spent most of her quality "writing time" Googling herself, could not figure out that she needed to click the crooked reply arrow to, you know, answer your questions.
G/O Media may get a commission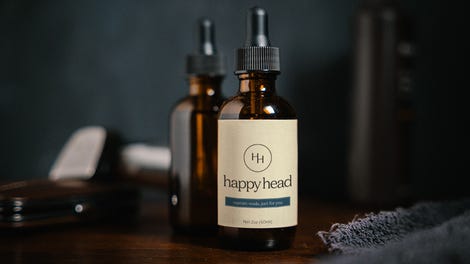 But I assure you these hang-ups were not unforeseen and were made abundantly clear to the People Hired To Make Things Run As Smoothly As Possible weeks ago that it would be in everyone's best interest to do a brief tutorial with Sarah (as we have every other author who's done this) but that, for whatever reason, was not communicated through the proper channels. Alas, we got this.
You people, as annoying and nasty as you are sometimes, deserved better. Everybody did. Because, as you can tell by the totally unnecessary "Comedy Week" we pulled together to help promote her book, this took some time and planning. In the future, I'll make sure any future authors who sign up for this actually want to do this — as hard as it may be to believe, lots of people want to sell their books and would like to answer your questions in this format.
To sum up, I'll just screengrab this portion of her 12-minute chat where she mostly just banged out lame schtick:
But buy her book. For Hirshey. His mustache needs to eat.