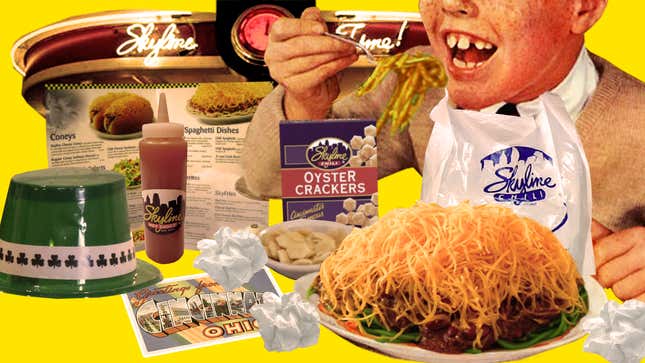 "You really want the green noodles?" asked the seemingly amazed young man taking my order.

How running an NFL team is like running a restaurant | Chef Emeril Lagasse
"I do."
I sensed that my server believed the already-unappealing dish was made infinitely worse with the addition of green-colored noodles. "What about a bib?" he asked. I declined.
Moments later, lunch arrived.
---
I'm going to let you in on a little secret. But before I do, you should sit down and set aside your LaCroix because what you're about to read might either cause you shudder in horror, or spit incredulously all over your work cube. Here it is: Skyline Chili isn't that bad.

What you've heard about Skyline isn't wrong. Its unsavory presentation and intense cinnamon flavor can make it an unenjoyable eating experience for even the hungriest of people. And admittedly, the photograph evidence in this post do nothing to dispel your preconceived notions. But to truly comprehend and appreciate why Skyline has endured for decades as a staple of tri-state cuisine, one must look beyond the darkness and read past the chili slander to see why this Cincinnati-based chili chain elicits such a loyal following.
Blue collar, white collar, indigent, and WASP alike meet with their families at the Greek-immigrant-founded chili chain not because they're in search of the latest foodie trend or an exquisite culinary achievement, but because sharing a plate of Skyline amongst friends and family provides the people of the Midwest and Upper South with a sense that remains fleeting for many: comfort. Sure, there are enthusiasts who truly crave the "diarrhea sludge," but for people like me, the taste and presentation of the chili is immaterial. Simply sitting down over a 3-Way and having a conversation with friends and family evokes the pleasant memories of yesteryear, when times were simpler and the encumbrances of life didn't weigh as heavily on their shoulders as they do today.
Such is the reason why, last week, I set out to prove that while it may serve its customers the most ghastly-looking, bloat-inducing dish available, Skyline Chili can be good for the soul.
---
On March 17, for one day and one day only, Skyline held its annual St. Patrick's Day promotion: the Green Way. I donned my raincoat and trudged toward my chosen lunch spot through spring showers, and past Highlands bars packed with swarms of revelers celebrating both St. Patrick's Day and the impending Kentucky and Louisville NCAA Tournament games, towards my local Skyline Chili on Bardstown Road in Louisville, Kentucky.

The sight of the dining room brought old memories to the forefront. At the worn tables, I flashed back to over a decade ago, when I returned home from my first semester at college, and my brother—then only eight years old—insisted on catching up over a couple of coneys. The wafting of the cinnamon and chocolate in the air transported me to when I was a pre-teen and looking across the table into my father's hazel eyes, as we both laughed at an innocuous joke.
With these memories fresh in mind, I parked myself in the middle of the half-full dining room next to two postal workers, a businessman whose muttering of "turnaround time" to a colleague became an annoyance, and a middle-aged couple, the man was decked head-to-toe in his finest University of Kentucky sweats. Having a clear view of the TV showing the game between Michigan and Oklahoma State, I ordered a regular Green 5-Way—green noodles, chili, cheese, onions, and red beans. And like a true Kentuckian, I opted to wash it down with a Mountain Dew.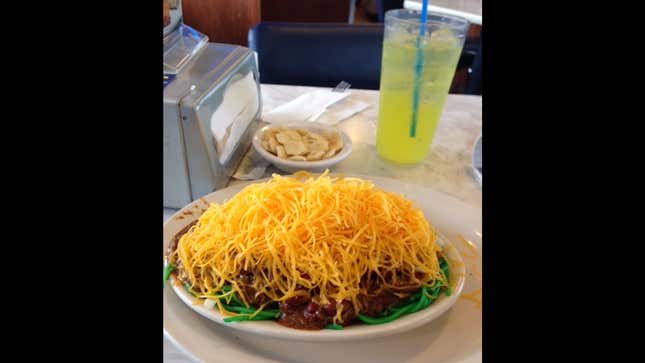 Chili or worms from The Strain? You may debate this in the comments.

A few hefty bites in, the splashing of the extra-watery chili could no longer be contained. This prompted an emergency hailing of my waiter, to whom I sheepishly requested a complementary bib, with the hope that my sweater would no longer be tasked with providing the only line of defense against the runny, scalding hot chili.
Within a few minutes, the green dye began mixing with the watery chili at the bottom of my plate, creating what can only be described as a modern-day interpretation of Monet's Weeping Willow.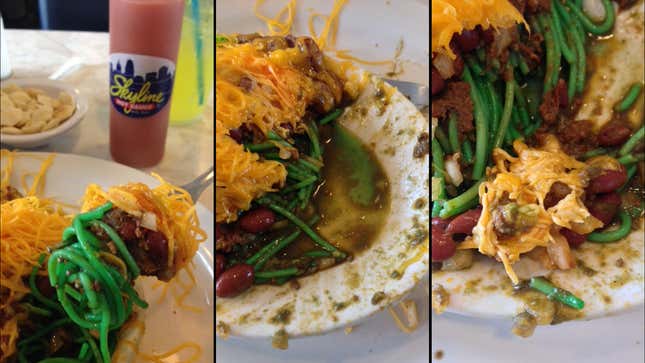 When the clock on the wall said one o'clock and I was midway through my meal, I overheard the man clad in Kentucky sweats telling his date that his St. Patrick's Day celebrations were well underway. "I can't believe I'm so drunk," he said. "I ain't even had that much bourbon!" This man undoubtedly later learned the hard way what I learned long ago: Skyline and booze do not mix.

By the time I finished my meal, with my stomach rumbling and my forehead glistening from the overbearing spiciness and saltiness of the dish, it was a foregone conclusion that the rest of my day would be spent in bed, moaning to my unsympathetic dog about the adverse side effects of the chili.
---
Despite the uncomfortable walk home, though, I couldn't help but conjure heartfelt memories of my childhood. Memories of my family sitting together around the fire on a cold Sunday night eating my mother's homemade chili, along with separate memories of my dad—lacking culinary wherewithal and imagination—turning to Skyline to feed his family.

Skyline gets a bad rap, and the pictures in this post do nothing to improve its reputation. But the fact that a simple bowl of chili can produce such feelings of comfort and nostalgia, and how the smell of the parlor can elicit warm memories of close friends or the dearly departed, will always transcend a mushy bowl of green pasta and a belly ache.