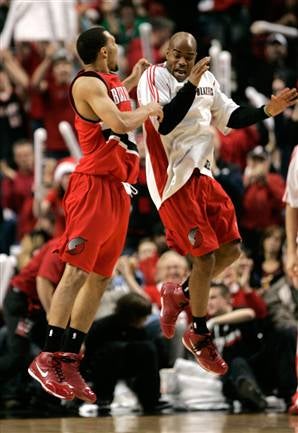 Rick Chandler continues to rock the NBA Closer all this week. Skeets will be back next week, though Rick's doing just fine, we think.
The Trail Blazers have won 11 straight, and if you don't think that all of Oregon has a giant Royboner over that, you don't know your Pacific Northwest states. The Blazers beat the SuperSonics 89-79 on Tuesday, and to make it all the more special for the hometown folks, ESPN was there! Wow! From Blazers' Edge:
The ESPN machine came rumbling through town. They overtook the press room, increased the Blackberry and hair gel quotient, and, in the end, seemed to thoroughly enjoy the show. Our show. That's right, the single hottest team in the National Basketball Association with some of the loudest, proudest fans in the league. It's the longest current winning streak in the NBA, and Portland's best run since the 2001-02 season, when they won 12 straight. Brandon Roy and Jarrett Jack each scored 17 points for the Blazers, who have a 12-game winning streak on Christmas. Even Ray Ratto — a professional skeptic — is impressed. He somehow managed to rip the Buzzsaw, though!
• Lakers Continue To Tease Fans. Kobe Bryant, who apparently doesn't want to be traded now, scored 26 of his 38 points in the second half to lead the Lakers over the Suns 122-115. It was L.A.'s ninth win in 11 games.
• But Then, Who Doesn't Beat The Heat This Season? And now, a Christmas message from LeBron James: "I got elbowed by Shaq in the face, which is not a good thing. Ever." James scored 25 points to lead Cleveland to a 95-82 win over Miami.
• All Is Well, All Is Well, Alliswelliswell ... This just in: Isiah believes that the Knicks' future "is brighter now than when I came here four years ago." They just have to "keep grinding." And Marbury's back! Oh, and that thing going on over in Iraq? Proceeding nicely!