The Cleveland Indians had the bases loaded in the bottom of the third inning against the Astros earlier today when Lonnie Chisenhall fouled off a ball that first bounced in front of the plate.
See the ball changing direction? That's because it hit Chisenhall's swinging bat and was redirected into foul territory.
Umpire Jim Joyce, however, did not see it that way and let play continue, believing it was a wild pitch. While Astros catcher Jason Castro argued with Joyce, Indians players ran around the bases unchecked.
(Mobile users can click here to watch and scoff at MLB's description of the play.)
G/O Media may get a commission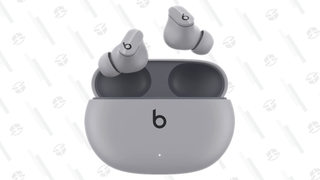 To his credit, Joyce met with the rest of the officiating crew to discuss, but somehow none of them had seen the play either. Foul balls, like checked swings, aren't reviewable, so Astros manager A.J. Hinch's complaints only got him ejected from the game.
The crew determined that only two of Cleveland's three runners had reached home before Joyce called time after the "wild pitch," so those runs stood for a 4-1 Indians lead. Just how clear was it that the Astros were screwed over?
h/t Nick