There's an old, little-known idiom that goes something like this: Don't judge a book by its cover.

The best sports movies according to Toheeb Jimoh
Well, readers, as it turns out, a popular Instagram poet would like you to do just that when considering her work. It's not a bad strategy, given that the "poems" contained therein are pitiful, vapid, exploitative, and possibly plagiarized.
If you, like me, are fairly old, you might not have heard of Canadian poet Rupi Kaur. In 2014, she self-published a collection of poems titled milk and honey. A year or so later, she gained a large Instagram platform after the network took down a photo of her with period blood on her sweatpants due to some twisted-up, puritanical interpretation of their community guidelines. All was well and good, and Kaur understandably used the incident to catapult her status as a writer, and milk and honey was picked up by Andrews McMeel Publishing and hit one million sold copies in January of this year.
Kaur's second book, the sun and her flowers, was released yesterday. As part of promotion for her new book, Kaur's publicist ostensibly set up an interview with The Cut, whose piece by Molly Fischer was published early yesterday morning.
G/O Media may get a commission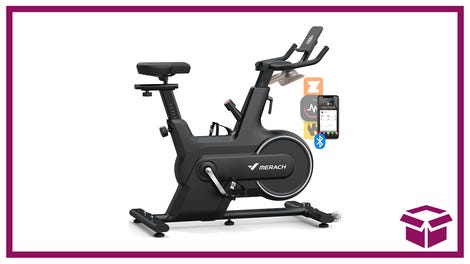 14% off + Coupon
Merach Indoor Cycling Bike
Folks, it's a real wild one. At first I was like, No, why would I read this? I don't find Kaur's poetry to be particularly ... good ... but I'm more of a prose gal anyway, and who am I to tell the variety of women on my Facebook and Instagram feeds that I think Kaur's work reads to me more like platitudes or mantras, which can be easily part of poetry, but ... I don't know. It's just not for me.
Kaur does, however, do what I think is the most important aspect of professional writing: She creates work that articulates thoughts and feelings that readers have not crystallized for themselves. Her work, no matter what I may think of its literary merits, seems to help people relate to the world around them, and the emotions and experience contained within.
So I don't have much disdain for her readership, but after reading Fischer's profile this afternoon, I have a whole lot of disdain for the artist herself. Kaur, quite extremely, comes off as a real dunce.
The profile starts out fine enough; Fischer doesn't assume readers are immediately familiar with Kaur or her work. But here is where it takes a turn:
We've been sitting in Union Square, on a bench near a flock of volatile pigeons; Kaur has ignored them to an impressive degree, but eventually her publicist suggests we go someplace else. It begins to rain, and so we head toward the Strand. The publicist has warned me in advance that this could be a challenging place to speak — "They adore her," so she may be obliged to sign books — but we are able to browse undisturbed.
Okay, ouch. How about:
"I will always go into a used bookstore," she says, even when she's working. "I'll collect a lot of covers that inspire me — whether it's the paper inside, whether it's a font, so then later I can be like, okay, how's mine going to look?"
Let's not dwell too long on that. Keep it moving:
On a cart at the Strand, Milk and Honey sits alongside Bad Feminist by Roxane Gay, Men Explain Things to Me by Rebecca Solnit, and Between the World and Me by Ta-Nehesi Coates. Kaur read half of Between the World and Me. "I had to take notes," she says — it was "more academic" than her typical reading. Recently she got Notorious RBG, and she's been enjoying that.
OKAY, LET'S KEEP MOVING ON:
"This guy is the best," she says, noticing an edition of Kafka's complete stories; she's referring to Peter Mendelsund, the book's designer. "The dream is to have him design my next book." His work, she points out, translates well across media — to different sizes, to posters, to digital.
Okay, I'm fucking done here.
Here's why this profile feels so fucking good: This person, who by all means seems well-intentioned, is making a shit-ton of money on the merits of simplicity and ignorance.
Kaur is, in industry parlance, a hack. And while most of us who write for a living believe ourselves to be hacks, at least most of us don't run around saying the ultimate goal of our work is to be blown up to poster size.
Kaur is probably right; I'm pretty sure the reason her first book sells so well is not based on the inherent accessibility of her poetry, but because of its good placement within bookstores, aesthetically simple cover, and the massive Instagram hype around Kaur herself.
I suppose an aesthetics-first approach to poetry is the perfect strategy for an aesthetics-first platform. Kaur is the portrait of pseudo-intellectualism, and if it hadn't already, it will pain me to see her book sitting at the forefront of U.S. poetry sales on Amazon and in physical locations in big-box bookstores and on my Facebook feeds and fjkdslfjdskl.
i suppose
i am now
just
old cranky
and mean
-perspective.
[The Cut]