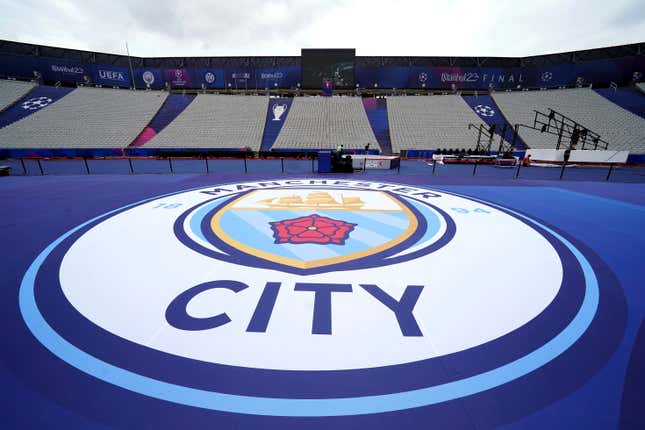 No.
Sorry, I'm getting word from my bosses that their bosses get pretty pissy if we try and publish something one word long. And it's close to the weekend, so I'd rather not get my bosses yelled at once again (it's a habit of mine. Start the fire and miss the firefight and all that). All right then, let's play into this fantasy just for the fuck of it, before we all watch Inter get smashed 4-0 and stare darkly into a Manchester City-wins-all future that we can't avoid and highlights the pointlessness of modern, capitalistic society if not existence itself. We need to live here as long as we can just to feel the warmth.
Can Liverpool Win The Quadruple? | What You Need To Know | FA Cup
So, what can Inter do, or what do they have, that might give the Citizens some pause and block them from a Treble that's seemed a formality since somewhere in the middle of February?
Formation
The first ray of hope, and they are sporadic, is that Inter play a 3-5-2, which often morphs into a 5-3-2, which is probably the preferred way to defend City. In two of City's rare losses this season, to Brentford and Tottenham, those teams played with formations that mostly had five defenders spread across the field.
Where City harvest the organs of their opponents, mostly, is the way that their two advanced midfielder, usually Kevin De Bruyne and İlkay Gündoğan, slip and sneak their way into the half-spaces, both vertically and horizontally. Which means between the fullback and centerback when the opponent is playing with a back four, and between the defense and midfield. This causes some confusion. If the full-back tucks in to cover, City's wide forwards Jack Grealish or Bernardo Silva/Riyad Mahrez run wild in space. Try to blanket those wide forwards, and De Bruyne and Gundogan have far too much room to either pass, cross, shoot, or dribble into the box.
With five back there, there is simply less space horizontally. Inter don't have to worry about their widest defenders making that decision, because they're wingbacks with more support inside of them. They can choke off that space on either side of the penalty box. Federico Dimarco and Denzel Dumfries might not be the greatest defenders, but they're more than competent, and they're backed up.
Going the other way, what Dumfries and Dimarco are especially adept at is the quick counter, which if City are vulnerable anywhere, it's there. With John Stone vacating the right-back spot to be in midfield, if you can spring quickly there's plenty of space on either side of the three centerbacks that are left. With Inter playing two out-and-out strikers, there should be space in between City's three to exploit.
…Except City never, ever lose the ball and on the three occasions per match they do they just foul to reset their defense and then get the ball back to keep for the next 27 minutes and every team's fullbacks or wingbacks just end up somewhere near the second row behind the goal after defending for so long. But it was fun to dream.
Sharp-shooting strikers
Against City, every team knows they're only going to get a look or two at goal. Spurs had Harry Kane, Brentford Ivan Toney, and Liverpool Mo Salah, all players that don't require a hatful of chances to get the sights calibrated. Forwards have to cash in the rare looks they get.
Inter have that in Lautaro Martinez. 20 non-penalty goals on 16.5 nxG speaks to an unerring accuracy when given a look. And he's only going to get a couple on Saturday afternoon.
Martinez's choice of partner will be the big watch before kickoff. Eden Dzeko has gotten most of the starts this year, and is perceived as more of the battering ram that will be more suited to the flurry of long balls the Inter defense will have to toss up simply to get a breath out from under City pressure. But Dzeko's aerial prowess has been waning for a few seasons now, and the City system still dictates he'd have to be winning headers surrounded by three or four defenders. Karim Benzema didn't manage to pull it off.
Romelu Lukaku isn't the target man his physique suggests, but lives to spring on the counter after pulling out wide to be found with outlet passes from a deep defense. Getting both him and Martinez turning and running at a strung-out Man City defense might be the way to go. Inter manager Simone Inzaghi will deploy both in some fashion as the match goes on. If you squint, hard enough to cause a headache if not a brain bubble, you can see a scenario of Inter gaining possession on the edge of their 18, someone firing a pass out wide near the halfway line to Lukaku, who holds off Kyle Walker long enough to turn and switch the ball to either Martinez or Dumfries getting in behind and suddenly Inter are 2-on-2.
…except this is everyone's plan against City, Kyle Walker is nearly impossible to sprint by, Rodri and Ruben Dias pretty much win every duel they're in, and they just kept Vinicius Jr. penned in for the most part over 180 minutes, and he's certainly more gifted than anything Inter have to offer.
City haven't been great on their travels to the continent
Now we're really stretching. City did just win the FA Cup at the neutral ground of Wembley, but we need any foothold we can find. City have drawn their last five games in the Champions League away from home. They were arguably somewhat lucky to get draws at both Leipzig and Madrid, though seemed to be hesitant to get out of third gear, knowing they would likely lay the wood to those teams back in Manchester. Which they did.
Still, their away record against the Premier League's best was spotty, at least spotty on a City-scale. They lost at Spurs, Liverpool, and United, while drawing at Newcastle, and Villa, and Brighton. Only Arsenal felt City's wrath on their own patch (and boy did they!).
However, all of those save the draw at Brighton were before the first week of February, and before City punched this alien ship into plaid. And the Brighton draw was after they'd clinched the title.
So…it's a challenge, to be the kindest we can be. Maybe Inter's back-five keeps City at bay just long enough for one good pass from Bastoni or Barella or Çalhanoǧlu to spring Martinez or Lukaku and then they convert and then Inter can come up with the greatest backs-against-the-wall defending seen in a UCL Final. Maybe some strong-arm tactics from Acerbi or Bastoni get Erling Haaland off his game, or their three centerbacks keep Haaland finding those channels he lives in so easily. Maybe De Bruyne and Gundogan are pushed just a little farther away from the Inter box than they like. Maybe some sharp Italian shithousing drives Grealish nuts and he ends up getting red-carded after drying to drift Dimarco. Maybe Andre Onana turns back the clock to his Ajax days and goes all Gandalf for 90 minutes.
And maybe Brie Larson will buy me a Manhattan one day.
---
Follow Sam on Twitter @Felsgate as he watches this all go to shit in about 17 minutes on Saturday.