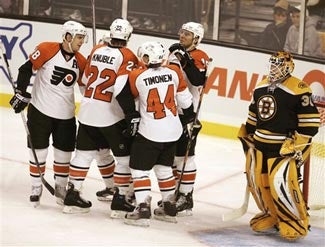 We're gonna try this out for a couple of weeks and see how she works: It's the NHL Closer. We may alternate authors a bit — those guys at Melt Your Face Off do this quite well themselves — but for starters, we pass the mic to the kids at Orland Kurtenblog. Their NHL Closer is written by Canadians for Americans.
• Flyers Take Battle of Pennsylvania...Finally: Last year, the Philadelphia Flyers lost all eight of their games with the Pittsburgh Penguins. This year, they're a perfect 1-0 after a 3-1 victory at The Igloo. Sidney Crosby picked up an assist on the Pens' lone goal, the least he could do following an early giveaway. The Kid's rare blunder moments after the opening faceoff led to Joffrey Lupul's tally at the 28-second mark. What you're all wondering? Joel Otto was the last palindrome to score in Pittsburgh.
• MacArthur-Day! MacArthur-Day! Buffalo surrendered the first goal of the game for the 11th consecutive time but managed to battle back for a 2-1 overtime victory versus Boston. Clarke MacArthur, playing in his first game of the season after being called up from AHL Rochester, notched the winner at 3:16 of the extra period. Sadly, Rick Jeanneret was killed in his own explosion.
• Blackhawks Win on Claustrophobe Appreciation Night: Just 9,717 showed up to the United Center to watch Chicago smoke Columbus 5-2. Rookie Jonathan Toews scored his sixth of the year, Blue Jackets forward Manny Malholtra played his 500th NHL game and Bill Wirtz is still dead.
• Record Older Than Chelios Falls: The Red Wings beat Nashville 3-2 in a shootout after Detroit's Henrik Zetterberg managed an assist to push his scoring streak to start the season to 15 games. That's a new Red Wings' record, breaking Norm Ullman's mark of 14 in 1960-61. In 1962, Chris Chelios was born. In 1963, The Beatles released the album "Please Please Me."
• We Have a New Highest-Scoring American: Dallas Stars forward Mike Modano scored two quick goals against San Jose to give him 1,233 career points, one more than Phil Housley. That makes him America's greatest NHL scorer. And you know what? That's just super. Wayne Gretzky finished with 2,857 points, but that doesn't make Modano's record any less special. It's still really, really good. By the way, the Stars beat the Sharks 3-1.