Many accommodations in the Sochi area simply weren't ready for the thousands of visitors and journalists who arrived earlier this month. It sounds like it could have been even worse, if not for the IOC forcing the Russians to kick things into overdrive last fall.
The Wall Street Journal interviewed Jean-Claude Killy, the French former alpine skier and chair of the IOC's coordination committee for the Sochi games. On a visit to the host city last September, Killy says he was shocked to see just how unready Sochi's tourism infrastructure was.
"All the alarms went up in September," Killy said. "I made a special trip. I said, 'What do we need to do?' There is no way to organize a Games if you cannot accommodate people."

Killy said he declared a "red alert," which required expanding a workforce that he said ultimately totaled 100,000 people working around the clock, seven days a week. The schedule, Killy said, cost organizers what was likely millions of dollars in additional pay.
"We realized it too late," Killy says, which raises a whole bunch of questions. Not least of which is why no one took notice until seven years and 40 visits after Sochi won the 2014 games. (Also not least of which is why the IOC sends a former skier to evaluate the readiness of construction projects, instead of someone with actual aptitude in that field.)
Most of the hotels were completed by the start of the games, though only with 24-hour construction in the final weeks and months, and some media and staff accommodations weren't quite ready for showtime. Killy praises Vladimir Putin, who he says he could "ask for something and you see it within two hours." He also singles out Russia's Olympic organizers: "Foreign-educated, people from Harvard, Stanford, KGB."
G/O Media may get a commission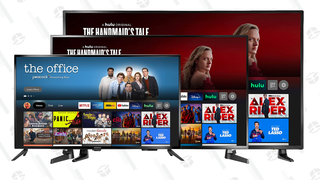 Up to 44% off
Prime Early Access - Insignia Fire TVs
Sochi Olympics Official: We Realized Hotel Problems 'Too Late' [Wall Street Journal]