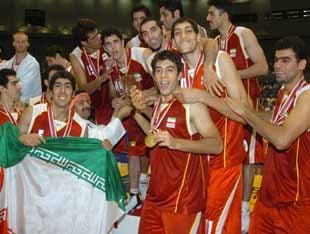 Before it heads over to Beijing to compete in Olympic basketball competition, the Iranian national squad will play a series of exhibition games against NBA summer league teams at Salt Lake Community College. The Islamic Republic of Iran playing in Utah; kind of makes that North Carolina-Duke rivalry seem childish.
In addition to the hometown Utah Jazz, there'll be rookie teams representing the Dallas Mavericks, Atlanta Hawks, Golden State Warriors, New Jersey Nets and San Antonio Spurs. U.S. officials believe that the request came from the highest levels in Iran, and is part of an attempt by Iran to tamp down tensions between the two countries. In fact, Iranian officials told NBC News that hardliners in the Islamic Republic opposed the overture.

But moderates in the Iranian government prevailed. The Iranian officials said that moderates in the government have been trying to set something like this up for two years. Iranian officials add that the basketball team is already in the U.S. training for the games.

And, by the way, he added, so is the Iranian national ping-pong team.
The Iranians open on July 19 against the Mavericks. But as you can see on the Jazz web site, they're calling them the "'07 FIBA Asian Champions." Iran? Never heard of 'em.
As Sports by Brooks points out, Utah's No. 1 draft pick, Kosta Koufos, will likely play against the Iranians. Koufos is of Greek and American descent, and Greece hasn't exactly been pals with Iran lately.
And by the way: Those streaks you've seen over the Persian Gulf lately? Not test missiles at all! They're just happy diplomacy peace rockets! Pay them no mind, Isreal!
Basketball Diplomacy: USA And Iran [MSNBC]
State TV: Iran Test-Fires More Missiles For 2nd Day [USA Today]