Thursday, Sharpe's girlfriend took out a restraining order against him. Sunday, he was on our TVs. This wouldn't be an issue, if not for Warren Sapp going through similar events last year, and being immediately reprimanded.
Late last week, Michele Bundy was granted a temporary restraining order against Sharpe in an Atlanta court. Details have yet to emerge, but it's being classified as a "family violence" situation. What's more, it came out that 10 complaints have been filed against him in 16 years, all by women, and at least one involved battery.
That was dropped after mediation, and, as CBS has been quick to point out in this case, no charges have been filed against Sharpe. So they're well within their rights to let him work their studio pregame show on Sunday.
Just as the NFL Network was within their rights to make a decision on Warren Sapp, when he was charged with domestic battery during Super Bowl week. They took him off their telecasts, even though, only being charges, he was still considered innocent of anything. (The fact that he was later cleared doesn't change anything.) It seemed like the safe play, a judicious use of caution. CBS exercised no such caution. But then, Sapp was formally charged; Sharpe hasn't been.
Which brings us, as all accused-but-never-charged athletes do, to Ben Roethlisberger. He got four games for, in legal terms, doing nothing. Couldn't CBS have given Sharpe the weekend off, if just as a sop? Of course, no one disputes that Roethlisberger was doing very dumb things and putting himself in a bad situation. But if you're at a place where your girlfriend is taking out a restraining order, you probably haven't been putting yourself in the best situations either.
G/O Media may get a commission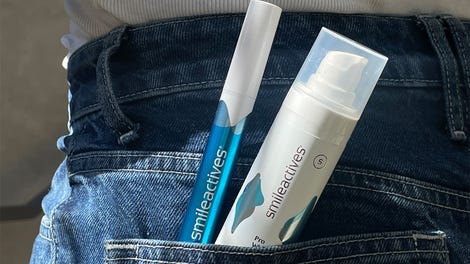 58% off
Whitening Powerhouse Pen & Gel Duo
The answer, insofar as there is a simple one, is that CBS and the NFL are completely separate entities, each with their own policies and philosophies, and each act according to their interests and the information at hand. And that's fine. But the potential of keeping him on television if everything goes sour is certainly more damaging than sending him home for a false alarm.