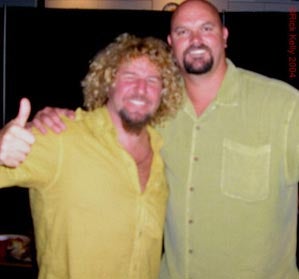 When David Wells missed a start in the 2003 World Series because of mysterious back problems that might have been related to the fact that he weighs 800 pounds, we figured he was done. Missing a World Series start because you were out of shape? People tend to not like that.
Wells continued to hang around, though, even making a postseason start last year for the Padres. But now, the pilot light might have finally died out: The Padres cut Wells this morning after the Cardinals banged him around for seven runs in an inning earlier this week.
"I think Father Time caught up with him," Padres general manager Kevin Towers said. "At times, he showed good stuff, but he was a little more inconsistent. He might have a good outing, but then he'd struggle for three or four. I think the velocity was still there, but the curveball was a little more inconsistent and he was struggling with his cutter. He didn't have a pitch to command the inside part of the plate."
If Wells is indeed done, we feel we must properly salute a baseball original. Before there was El Guapo, there was Wells, the late-night drunken phone calls, the perfect games, the odd obsession with Babe Ruth. Only in baseball could David Wells have ever thrived, and if he's done, we will miss him.
Wouldn't surprise us if the Cardinals signed him, though.
Oh, and of course: The Dugout.
Time Finally Caught Up For Wells [San Diego Union Tribune]
Bottom Of The Wells [Yahoo Sports]