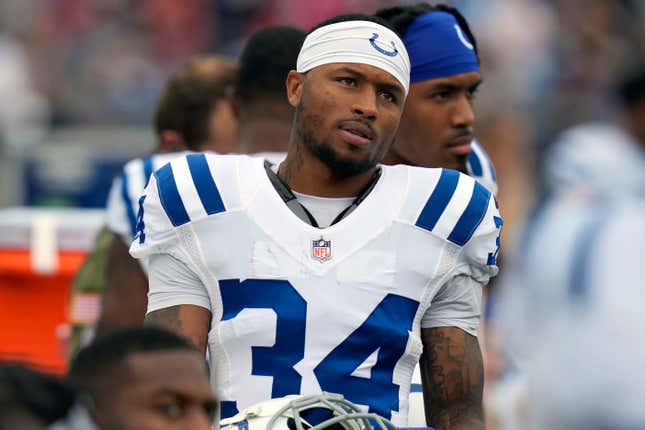 The NFL and the Indianapolis Colts had no choice. The book had to be thrown at Isaiah Rodgers.
What team would trade a first round pick for Jonathan Taylor? | Agree to Disagree
On Thursday the NFL unrolled a scroll and announced suspensions of several players for gambling violations. Two players from the Colts were suspended for at minimum an entire season, Rodgers and Rashod Berry. The Colts announced that both players have been waived.
What Rodgers is accused of is at best galactically stupid, and at worse, signs of a problem. When the story first broke that he was under investigation, he was accused of using an account under an associate's name to place hundreds of sports wagers that included Colts' games.

Rodgers placing a single bet on the Colts, or any NFL team, under someone else's account indicates conspiracy. Further reporting from ESPN's David Purdham revealed that one of the wagers was a $1,000 over/under on rushing yards for a Colts running back.

The NFL is a morally dubious institution. The league hosts events that mangle the bodies of participants and is scientifically proven to cause head trauma. For most of the NFL's existence, participants were not properly warned about the pervasive risk of head trauma, which resulted in a lawsuit being settled for more than $800 million.

In this violent profession, qualifying players only receive healthcare for a maximum of five years after the completion of their careers. League ownership is constantly battling with the players to ensure that they profit the most from this bloodsport. The revenue split has gone from 50/50 to 53/47 in favor of ownership. The result of the rookie wage scale is that quality veteran players get released in favor of players on rookie contracts who may not be as productive, but cost significantly less money.

Linking up with the sports books is certainly ethically questionable, but the NFL puts on 21 weeks of human car crashes every week and tries with all of its might to avoid paying for the damages. If the NFL wants to bring in some extra money through gambling that is the least of the league's ethical breaches.

The only integrity that the NFL has is the competition on the field. A breach there is the only one that can cost league ownership money. It has to be protected at all costs. Rodgers was not only on an NFL roster, but was a contributing position player. He was a significant part of the Colts' defensive game plan, and there is a good chance that he never plays another down in the NFL.

NFL players have never been allowed to wager on games in the league in which they play. The NFL wanting to increase revenue by going into business with the sports books ultimately benefits the players as well. They may not get as much money from it as they should, but they still get quite a bit.

With one of the NFL's morally questionable decisions actually benefiting them, all players have to do is to never bet on this particular sport, and never place a wager in a facility or room that is paid for by an NFL franchise. Also, don't enter sports books during the season.

I personally think not being able to wager on other sports while at team facilities or on road trips is a bit much, but it's still an easy rule to follow. If the adrenaline junkies need to gamble they have each other to play cards with, and blackjack tables across the country.

For those that can't follow the rules, they will end up like Rodgers, Berry, and others. Because there is no way that the NFL is going to hit the brakes on the sports betting Brinks Truck on the grounds of hypocrisy.