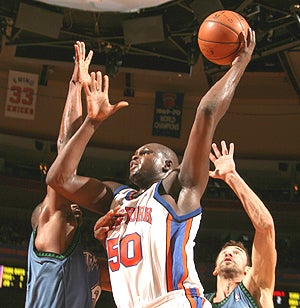 Ed. note: This was supposed to go up this morning, but better late than never.• Are You Going To Get In The Truck?
First our Isiah Thomas quote of the day: "It's always good to win your home opener, and for us here in New York we struggled last year at the start of the season at home,'' Thomas said. "It's good to come out and win the first game and our fans were great tonight.'' Um, how would you know, Isiah? Until Sunday, the Knicks hadn't won a home opener in five years. But we kid Isiah. He's had a bunch of trouble recently, and on top of everything, even David Stern took a shot at the team's management skills. That's like Exxon Valdez skipper Joe Hazelwood criticizing your driving. Jamal Crawford scored 24 points — 10 in the fourth quarter — and Stephon Marbury had 17 points as New York beat Minnesota 97-93.
• Kobe Bryant Is Bulletproof. NBA beat writers took a day off from predicting a Kobe Bryant trade as the Lakers stopped the Jazz 119-109; which included 33 points from Bryant. The game also featured Kobe's block of a dunk attempt by Utah's Andrei Kirilenko with about seven minutes remaining. That's block No. 470 of his career, bringing him within three of Hank Aaron's all-time record.
• They Did The Nash, They Did The Monster Nash. With Amare Stoudemire suffering from sore kneeitis, Steve Nash scored 30 points and had 10 assists as the Suns beat the Cavaliers 103-92. LeBron James led Cleveland with 27 points; 21 the second half.
• There's One Thing You Do Not Know: The Celtics Are Not Left-Handed. Ray Allen hit a 3-pointer with less than 3 seconds remaining in overtime, finishing with 33 points in the Celtics' 98-95 win over the Raptors. T.J. Ford tied it at 95 on a 3-pointer with 4.4 seconds left. Kevin Garnett scored 10 points in OT, as Toronto made the decision not to double-team him. Um, not wise.