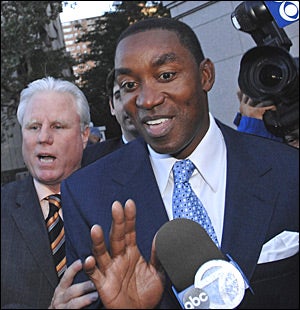 The disinterest Isiah Thomas showed in his last days as coach of the New York Knicks was palpable, and pretty much understood by all parties. But remember: He's not being fired by the Knicks. He's just taking a different job with the team so that $18 million still left on his contract can be collected. So what's he gonna do? How does $18 million to stay the hell away from the team sound?
The New York Daily News reports this morning that Isiah will specifically not be allowed to talk to any players. Nice gig, if you can get it.
According to a team source, Thomas has been barred from having any contact with the team as part of his reassignment agreement with Knicks president Donnie Walsh. Such an agreement is critical for a new coach as he tries to reestablish a winning culture at Madison Square Garden and distance himself from the Thomas regime.

Thomas is responsible for acquiring every player on the current roster and the fear is that if he were allowed to have any contact, including telephone calls, he could either willingly or unwillingly undermine the incoming coach.
As The Legend Of Cecilio Guante points out, that makes Isiah a tremendously well-paid secretary (and coffee boy for Jim Dolan). Isiah is making $18 million to stay away from his employers. The man was a genius all along!
Isiah To Be Paid $18 Million To Fetch Coffee [The Legend Of Cecilio Guante]