Philadelphia seemed already out of Eagles stories when a week ago I read the headline "Eagles Pep Band Ready for Big Game." Where do you go after a story on whether the four guys who play the Eagles' fight song after touchdowns are ready for the intensity of a playoff game?
Plenty of places, it turned out. The next day, perhaps inspired by a playoff-ready pep band, the Eagles beat the Falcons for their first postseason win since 2009. They're in the NFC title game on Sunday, and the city couldn't be more excited.
The weeklong celebration of all things Eagles in Philadelphia started right after Nick Foles's kneeldown. TV cameras showed offensive tackle Lane Johnson wearing a German shepherd mask as he left the field; he and defensive end Chris Long bought them before the game since the Eagles were underdogs.
The "underdog" storyline has become such a big deal no one's even really talking about Eagles owner Jeffrey Lurie dancing in a circle of players after Saturday's win.

G/O Media may get a commission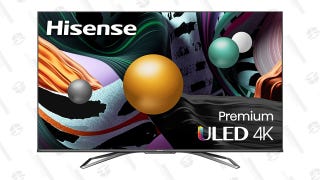 Save $350
Hisense ULED 65" Android 4K HDR Smart TV
So much is happening. The Philadelphia Police's 15th district told businesses at the bar-heavy intersection of Frankford and Cottman avenues, long a gathering place in Northeast Philly, that Eagles fans would destroy anything not tied down if the team happened to advance to the Super Bowl. Cops will be deployed across the city to deal with the aftermath of an Eagles win (or loss). The city has gone so far as to ban parking in the Broad Street median—a tradition going back more than 100 years—in South Philadelphia.
People are excited. I've talked more Eagles this week with strangers than I have in years. The local news is hunting for stories even more riveting than that one about the pep band.
Some of them are pretty good. The man in charge of dry cleaning the Eagles uniforms doesn't get the reverence people have for the jerseys: "People see this and they foam at the mouth. They go nuts with, 'Can I touch it? Can I touch it?' It's only a uniform. The person ain't here!"
Bo Wulf of The Athletic asked Eagles players which position a dog should play on the football field. "You couldn't put him at linebacker because you could easily play-action his ass," Brandon Graham said.
Potential jurors this morning were led in a rendition of "Fly, Eagles, Fly." Vernon Odom, a seasoned Philadelphia reporter with decades of experience, reported about a bar selling green beer. The news wasn't all positive: An Eagles fan coincidentally named Andy Reid had his giant Eagles sign stolen from his front lawn.
The news had stories about a 99-year-old Eagles fan who's going to the NFC title game, fans who were excited about the game, and a terrible version of the E-A-G-L-E-S chant by Gov. Tom Wolf and State Sen. Anthony Williams. Eagles news was everywhere: "Tailgating for the Eagles game? Use these tips to avoid heart burn horrors."
Eagles fans even praised Joe Buck, for saying the Vikings may not be ready for the crowd at the Linc. But Buck isn't the most-praised sportscaster in the city this week. Philadelphia is currently in Week 2 of the "guy on national TV says something nice about the Eagles" news cycle. Last week, Good Morning Football's Kyle Brandt ranted about how the Eagles were disrespected. And he's defended the Eagles this week, too.
As one site put it: "NFL Network host goes on another epic rant about the Eagles ahead of NFC Championship Game." Longtime Philadelphia sports talk host Glen Macnow called him invited him to the pregame show: "You're a local hero, man, let the people embrace you." Is it any wonder that Macnow was recently considered for a Congressional run?
Philadelphians also jumped on a Minnesota TV story where a travel agent compared Eagles fans to gang members. This was a particularly great story, because the same Eagles fans who scoffed that any Vikings fan who stepped foot in the Eagles stadium would be treated like shit also got to complain about the media treating Eagles fans unfairly.
It's been fun to have it both ways. The guy who usually sells "The Eagles are playing like shit, pass me another beer" t-shirts is now selling underdog and Nick Foles garb. I myself bought yet another bootleg Eagles t-shirt in the middle of Oregon Avenue. (It was $15 instead of $10, but you pay a premium for the luxury of shopping in a South Philly street median.)
To top it off, today many Eagles fans were posting a photo of clouds that kind of looks like the team's old logo.
They'll probably lose a heartbreaker Sunday. That's how it usually goes. But the week leading up to it has been pretty great.