Top of the eighth. Cliff Lee has just given up his first hit of the game to the Cardinals, a double to right. Up in the booth, Joe Morgan decides to tell a story. You know where this is going.
From Sunday's game, here he is, verbatim:
I guess I can tell this story now, one of my great experiences when I was a young player. Don Wilson was pitching a no-hitter against the Atlanta Braves. They had Orlando Cepeda, Rico Carty, Felipe Alou and Hank Aaron, of course. And they got to the ninth inning, he got two outs, no one on base, and Hank Aaron was the hitter. And in my infinite wisdom, I ran in to the mound. I said, "You know, it wouldn't be the worst thing in the world if Hank Aaron walked right here. He said, "Get back to second base." I proceeded to go back to second base. He threw three fastballs right by Hank Aaron. No-hitter.
Charming, right? And, alas, very likely an utter crock. This would've been June 18, 1967, Joe's third full season in the bigs. That Braves team did indeed feature Hank Aaron, Felipe Alou and Rico Carty — though not Cepeda, who was in St. Louis that year. And Wilson did indeed throw a no-hitter, striking out Aaron to end the game. None of that's the problem. The problem, as a tipster points out, is that Joe Morgan wasn't playing that day. Look at the box score. The Astros' second baseman was Julio Gotay. Morgan, who was probably hurt, hadn't played since June 3. He would pinch-hit the next two games, then return to the lineup June 21.
Now, Joe may well have said something to Don Wilson in the dugout, in which case he was merely indulging in a little poetic license last night. But given baseball's time-honored superstition about talking to pitchers during a no-hitter, not to mention the fact that Joe has told some stretchers before, I'm loath to give him the benefit of the doubt.
G/O Media may get a commission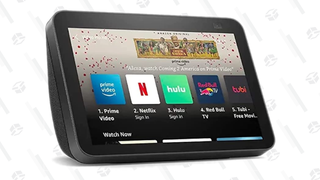 Please, Joe. Enough with the lies. As a wise man once said, how do you think we got Enron?
June 18, 1967 Atlanta Braves at Houston Astros Box Score and Play by Play [Baseball Reference]