The Brooklyn Nets cleaned house yesterday, firing head coach Lionel Hollins and GM Billy King at the same damn time, meaning that it's once again time to wonder if Kentucky head coach John Calipari will come swooping in to save an NBA franchise.
Ohtani has the WBC, but will Mike Trout ever lead the Angels to a championship? | Agree to Disagree
Calipari's namemost recently came up as a possible savior for the Cavaliers and then the dysfunctional Kings, and eyes are going to be trained on him any time there is a power vacuum at the NBA level. Thanks to Yahoo Sports' Adrian Wojnarowski, we finally have some idea of exactly what it will take to pry him away from Kentucky:
Twenty years ago, the Nets stunned everyone with a five-year, $15 million contract for the UMass coach. For Calipari to consider the Nets – and, yes, the Sacramento Kings, too – league sources tell Yahoo Sports that the teams have been informed of his asking price: 10 years, $120 million.
That is a whole lot of money—Phil Jackson is getting $12 million per season to run the Knicks, for comparison's sake—to throw at a guy who hasn't coached in the NBA since 1999 and has a career 72-112 record at the pro level.
Is Calipari really worth $120 million? For Mikhail Prokhorov, it might not matter. The Russian billionaire stormed into the NBA with promises that he was going to outspend every other owner and turn the Nets into an immediate contender. He's spent plenty of money since then, but he's only succeeded in creating one of the most moribund teams in the NBA. Calipari represents an opportunity to, even if only superficially, inject some energy back into the franchise.
G/O Media may get a commission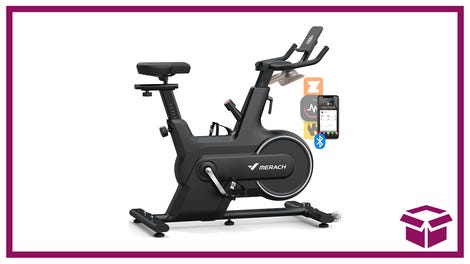 14% off + Coupon
Merach Indoor Cycling Bike
Prokhorov's desperation—at today's press conference, he reiterated the he wants to be competing for a championship very soon—and bottomless pockets might create the perfect scenario in which Calipari can be pried away from the college game. He reportedly turned down a 10-year, $80-million offer from the Cavs in 2014, and now he's got the Kings and the Nets in position to start a bidding war over him. Calipari will annoyingly insist that he's not negotiating with any NBA teams, as he always does...
... but with two teams reportedly after him, one of them helmed by a desperate billionaire, it feels like Calipari has never been closer to getting the big NBA paycheck he's been angling for.
[Yahoo]