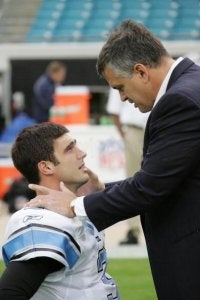 The latest in Lions fan protests is happening, oh, any time now. At some point in the second quarter, Lions fans are urged to walk out of Ford Field en masse. The goal, I believe, is not necessarily to voice their anger with Matt Millen, but rather with the guy who won't fire him, team owner William Clay Ford.
Part of me hopes that the Lions have some crazy can't-lose offensive sets that they've been saving for just such an event. I'd like for them to be down 21 points when the walkout starts, and then make a stunning comeback victory in front of 11 fans. I can't get behind the movement to Fire Millen... he provides too much material. And I can't wait until they draft Calvin Johnson in the next draft.
There are a lot of teams that have had bad seasons in '06... the Bucs, Raiders, Texans, Browns, Cardinals, etc. They know they don't have a lot to be happy about. But at least it hasn't come to this.
Lions not too concerned about possible fan protest [mlive.com]