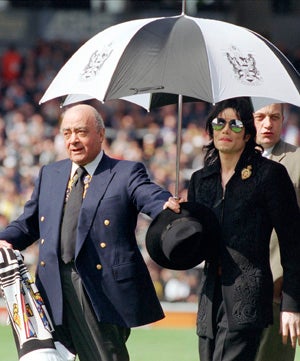 Fulham seems safe from relegation for now, but that doesn't mean they can't be a laughingstock. The club has announced it will unveil a statue of Michael Jackson at Craven Cottage, all because he was good friends with their Chairman.
Said Mohamed Al Fayed,
"Michael Jackson was truly a legend, a term used too often in this modern world saturated in the hyperbole surrounding celebrity.

I hope that many fans of his will visit the statue at the Cottage from far and wide, and that Fulham fans will appreciate seeing the finest performer in the world, in and amongst them, the finest fans in the world."
Al Fayed has a thing for statues, commissioning this bizarre memorial to his son and Princess Diana inside his department store. He's also a very rich man, and if he wants a statue of Michael Jackson outside his team's stadium, he's going to get it.
Chairman Honours Jackson [FulhamFC]