If your contribution to Thanksgiving dinner is usually a bottle of wine you grabbed on your way over to your aunt's house, it's time to step things up a bit. Put your freeloading holiday tradition behind you, and put on your chef's hat, because today we're going to teach you about pride and baking a pumpkin pie. Why a pumpkin pie? Because gourds are a symbol of fall and harvest and Thanksgiving is the end of that, or at least someone once decided that was the way things were. So, pumpkin pie it is! Not to mention that Thursday's feast will be even better than it usually is, because for once, you'll literally have something to bring to the table.
Jokic? Embiid? The NBA MVP is obvious... right? | Keep it a Buck(et)
Your baking experience may be limited, but that's okay. Don't like pumpkin? Well, everyone else does. Trust us, you're better off with this staple than wasting your time on some sort of fancy New York Times test-kitchen dessert like whatever the Salty Pluff Mud pie is supposed to be. It's Thanksgiving, and you can't have a proper Thanksgiving dinner without pumpkin pie. So where do you start? With a can of pumpkin. (I use Libby's). You'll need to make a trip to the grocery store, too.
Here are your ingredients:
3/4 cup sugar
1 teaspoon ground cinnamon
1/2 teaspoon salt
1/2 teaspoon ground ginger
1/4 teaspoon ground cloves
2 large eggs
1 1/2 cups of half and half
1 can pumpkin (I use Libby's but you can buy whatever 15-oz can you can find in your grocery store)
1 pie shell
A couple of notes on ingredients: If this is your first foray into baking, consider buying an extra can of pumpkin in case you screw the whole thing up and start over. You could substitute the spices for a dumb spice rack gimmick called "pumpkin pie spice" but don't do that because it can get to be overwhelmingly bland. Not mentioned above is the crust, and it's perfectly acceptable to go the store-bought route on that. You can find one in the frozen section. No one is going to ask if you made the crust yourself, and even if they did, they're not going to care once they have a face full 'o pie.
G/O Media may get a commission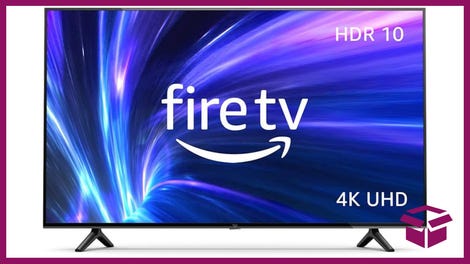 42% Off
Amazon Fire TV 50" 4K Smart TV
While this process shouldn't take you longer than an hour and a half, you should do most of the work the night before. You can the filling then and actually bake the damn thing the morning of Thanksgiving, so you come bearing a fresh, maybe even warm, dessert. I use a recipe my mom has always used, but here's a secret—it's basically the same recipe as the one on the back of the can, but instead of evaporated milk, I use half and half. There is no shame in that. It's the same reason that one of the most perfect chocolate chip cookie recipes is the one on the back of the bag of Tollhouse chocolate chips. Yes, I've seen that one episode of Friends.
Follow these steps:
1) Mix together your dry ingredients (sugar, cinnamon, salt, ginger and cloves) in a little bowl. I'm usually a bit more generous with the cinnamon than the recipe requires.
2) Beat your eggs in a big bowl.
3) Add your can of pumpkin to the eggs.
4) Add your dry ingredients to the pumpkin/egg mixture.
5) Add your milk to the whole thing.
6) Pour the filling into a pie shell (aka crust).
Pause for a break. You can either pop your pie in the fridge or, assuming you've procrastinated and it's the morning of, preheat the oven to 425. This next step is important! You're going to bake this in two stages, so just remember that. Put the pie in the oven at 425 for 15 minutes. Then reduce the heat to 350. Wait until the little buzzer dings so you know it's actually cool enough. Bake your pie for another 40-50 minutes or until you stick a toothpick in the center and it comes out clean. Every oven is different, so if you have a cheap old thing, it might take longer. But I typically split the difference and put it in for 45 minutes.
Voila! You've got a pie. If you're feeling fancy, you could go ahead and make a whipped cream topping all on your own, as well. Alton Brown has a good recipe here, but you're pretty much putting two tablespoons of sugar into a cup of heavy cream (which you can find in the grocery store next to the milk), and whipping it using a hand mixer (or a stand mixer if you have one) on high, until the cream forms stiff peaks. Whip it up right before you serve the pie for a nice added touch, and everyone likes a little garnish.
I like to think of Thanksgiving as a big potluck, especially when your mealtime family is a cobbling together of friends who are stranded away from home, like I will be this year. I plan on bringing pie and sweet potatoes to our version of Thanksgiving, but even when I'm with family, it's nice to make something. It adds to the spirit of togetherness, and gives you a pass on gorging on the leftovers. After all, you've put in work to make this feast happen in the first place.
---
Illustration by Tara Jacoby