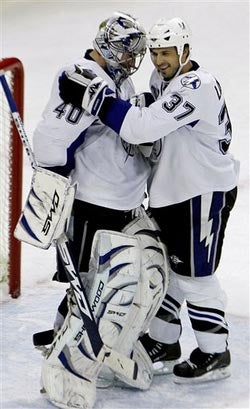 We're gonna try this out for a couple of weeks and see how she works; so far, people seem to be fans. It's the NHL Closer. We pass the mic to the kids at Orland Kurtenblog. Their NHL Closer is written by Canadians for Americans.
'Ning Win! 'Ning Win!: It would be a sad day (not for Larry Brooks, mind you) if John Tortorella got fired. So we quietly rejoiced as Shane O'Brien scored two goals - bringing his career total to six - pacing the Lightning to a 4-1 win in Carolina, their first road win in eight tries. Tampa has won consecutive games for the second time this year and might've gotten Tortorella off the hot seat. You get that through your head, Brooksie?
Sens Lose? Sens Lose? Ottawa is really good. Washington is really bad. Vitkor Kozlov does not care. The big Russian scored once and added two assists as the Capitals stunned the Senators 4-1 in Canada's capital. Alex Ovechkin, Nicklas Backstrom and margarine magnate Tom Fleischmann also scored for the Caps, who were 2-9-1 with one tie (remember tie games? Those were fun) in their last 13 meetings with the Senators.
Elisha Cuthbert Knows All About It. Gary Roberts is the latest to fall prey to Sean Avery's unique brand of shit disturbance. Avery goaded the 20-year veteran into a four minute penalty that led to a goal, then chipped in with a goal and assist of his own as the Rangers knocked off the Penguins 4-2. Sidney Crosby registered an assist, which means Canadian newspapers now have their lead story for the morning.
Phoenix Coyotes Hockey...Feel the Heat: The 'Yotes said 12,027 showed up in the desert tonight, although NHL.com reports "there were several thousand fewer seats filled." You know things are bad when the league website won't even go to bat for you. Oh yeah, Phoenix beat Dallas 5-2.
The Ghost of Ol' Big E: On the same day Eric Lindros called it a dizzy, nauseous and blurry career, his former club was spanked by the New Jersey Devils (Scott Stevens' former club...eerie) to the tune of 4-1. As a tribute, several Flyers skated the entire 60 minutes with their heads down.