Because no one reads the newspaper, and SportsCenter's anchors are too perky for this early in the morning, Deadspin combs the best of the broadsheets and the blogosphere to bring you everything you need to know to start your day
•Don't cry, Canes fans, The U looks like it's back after a blowout win over Georgia Tech. Next up: ranked Virginia Tech, higher ranked Oklahoma, and the very highly ranked "avoiding off-the-field controversies." That last one may prove unwinnable.
•The umpires claim that they were verbally abused by Angels coaches after two abominable questionable calls Wednesday night. You know what, Angels? Nick Green's OPS is .669. He deserves five-strikes-and-you're out, to make it fair.
•Roger Federer was fined $1,500 for this little remark at the US Open: "Don't tell me to be quiet, OK? When I want to talk, I talk. I don't give a shit what he said." Thanks to Roger and Serena, we know know that "fuck" is precisely seven times more offensive than "shit" in tennis. I don't even want to know what "mecrob" would cost you.
G/O Media may get a commission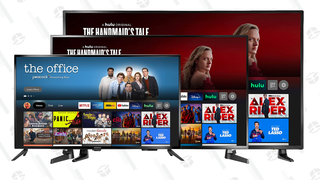 Up to 44% off
Prime Early Access - Insignia Fire TVs
•A lockout of NBA refs is "imminent and unavoidable" after talks with the league broke down yesterday. The refs turned down an extra million dollars in concessions, which leads me to believe they haven't looked at the poll on this page that says only 24% of fans care if they come back. Leverage indeed.
•A judge has ruled that Kobe Bryant's former housekeeper can sue him for being wrongfully fired, but can't claim emotional distress. Honey, you got off lucky. I don't know if you've heard about Kobe's last court case, but consider yourself lucky if the distress was just emotional.
•I hope Dash didn't think his Mets Season Of Failure gallery was finished. Elias says the Mets have three game-ending errors this season. That's three times as many as any other team.
•Finally, did you like the Commodore 64? Do you think it would have been better if only they put out a version of Guitar Hero for it? You're not alone: