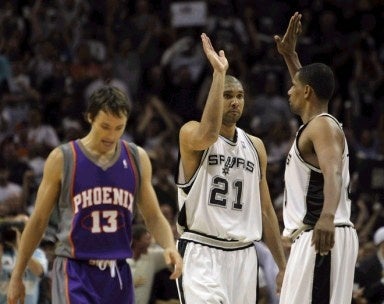 The NBA Closer is written by Matt McHale, who is mourning the Suns today. When he's not being bummed out, you can find him hating the Spurs at Basketbawful. Enjoy!

I feel like we've seen this before, Part I. Well, Dirk Nowitzki and his Mavericks got the playoff matchup they wanted...and five games later, they're once again on the outside looking in. Surprise, surprise.
Chris Paul had a triple-double (24 points, 11 rebounds, 15 assists), David West scored at will (25 points, 10-for-17), Jannero Pargo gave a "suck it, Jason Kidd!" performance (17 points, 7-for-9) and the New Orleans Hornets are movin' on up after a 99-94 victory. Man, what I wouldn't have given to be on Bourbon St. last night.
The Mavs didn't go down quietly. Or wisely. Jerry Stackhouse got himself ejected with 1:47 to play for batting the ball out of Paul's hands during a stoppage in play. Then Stack got all up in West's face. Brilliant moves, Jerry, both of them. Still, Dallas cut a 17-point lead to three with 33 seconds to go, and then they forced a big miss by Paul...but failed to grab the ensuing rebound. Tyson Chandler (10 points, 14 rebounds) smacked the rock out to Paul, who passed it to Peja Stojakovic, and Peja sealed the win with a couple freethrows.
Dirk Nowitzki (22 points, 13 rebounds, 6 assists) did his best, but the results - as always - were the same. Still, Nowitzki offered that "We're better than we showed this series." Sure, Dirk. We hear that every year.
I feel like we've seen this before, Part II. Back in his MVP days, Shaq liked to quote Aristotle, who once said, "Excellence is not an act, but a habit." Unfortunately for the Suns, they have a bad habit of losing big games to the Spurs. Over and over and over again...
Speed it up, slow it down, doesn't matter. San Antonio eliminated Phoenix once again. And the 92-87 loss stung Amare Stoudemire as much as anybody else. "Every year it seems like we always play the Spurs, and they beat us every single time. As long as I'm here we're going to break it sooner or later, because I'm tired of losing to these guys. I'm sick and fed up."
And least Stoudemire is young enough to wait it out. Steve Nash - who lost the ball three big times down the stretch - might be out of time. And he knows what just happened to his team. "I think on paper we have more talent than they do. But I think their experience, their commitment and understanding of what they're trying to do is greater than ours. Their ability to play together and make small plays on both ends of the floor is unsurpassed."
As usual, the Spurs used two guys to do most of the damage. Tony Parker had 31 points and 8 assists, and Tim Duncan added 29 points and 17 rebounds. No other San Antonio player reached double figures, but, as Nash pointed out, they did all the little things champions do. And the Suns didn't.
Smackdown in Motown. Random statistical phenomenon: The Philadelphia 76ers are now 0-1 since Samuel Dalembert got his crazy-ass new mohawk. And given the importance of the game in question, this was the worst possible time for Sam to go on a spectacular hair adventure.
The Pistons, who have apparently turned their targeting computers back on, hit 58 percent of their shots and regained the series lead with a signature 98-81 win. Chauncey Billups finally had a big game (21 points, 12 assists), Rip was his old basket-making self (20 points, 10-for-17), 'Sheed did his 'Sheed thang (19 points, 6 blocked shots), and Tayshaun Prince chipped in with 17 points.
You know how to tell that Detoit has become totally serious about finishing Philly off? The near-to-complete absence of overconfident trash talk. When asked about his team's chances in Game 6, 'Sheed said: "I don't think they're going to lay down at all. It's do or die for them. It's not going to be a cake walk." Hey...who is that guy and what has he done with Rasheed Wallace?!
Andre Iguodala - who scored a career playoff-high 21 points on 8-for-13 shooting - finally figured out how to score against the Pistons. Unfortunately for the Sixers, most of his other players forgot. Louis Williams (16 points) and Andre Miller (13 points, 5-for-17) reached double figures, but that's about it. And that amazing first round upset suddenly seems very far away...
Problem solved. The Houston Rockets finally figured out the best (and perhaps only) way to keep Tracy McGrady from suffering his patented fourth-quarter meltdown: Just end the fourth quarter with a commanding 19-point lead. Not to go all John Hollinger on you, but the Rockets win almost 100 percent of the games in which that happens. Behold the power of math!
Thanks to a 95-69 shot to Utah's meaty flanks, the Rockets have lived to fail another day. McGrady finished with 29 points, 5 rebounds, and 5 assists, and he even managed to scored 8 points in the fourth quarter...thanks in part to the fact that the game had already been decided. Now the King of Martyrs is filled with a ridiculous confidence. "We're in a great situation. We know we can win in Utah because we've done it before."
You know, back in college I convinced a friend to hit me with his car after a night of drinking our way through a Jackie Chan marathon. Sure, I survived, but thanks to the wonders of sobriety, I realize that just because I lived through my stupidity once doesn't mean I could necessarily do it every time. My point? Apparently, I'm an idiot.
Houston got some additional anti-elimination support from Luis Scola (18 points, 12 rebounds), Rafer Alston (14 points, 6 assists) and Creaky Mutombo (10 rebounds). Utah got double-doubles out of Carlos Boozer (19 points, 10 rebounds) and Mehmet Okur (14 points, 10 rebounds), but the Jazz shot 36 percent as a team and seemed to have developed a case of Let'swinitathomeitis.